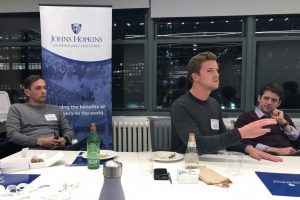 What jumped out to Alex Villa about Johns Hopkins' inaugural Founders' Forum for entrepreneurs last month in New York City was not the discussion as much as the participants themselves.
"The first thing I learned is there is a really strong set of companies that came out of Hopkins that most of my classmates didn't know about," said Villa, chief operating officer of Healthify, which helps health care organizations find community services and address patient social needs.
Villa was one of eight Johns Hopkins alumni and startup founders who gathered at the offices of Harry's Inc. — founded by fellow alum Jeff Raider — to connect, commiserate and learn from one another's startup ventures. The event was a collaboration between Johns Hopkins Technology Ventures and the Johns Hopkins Alumni Association.
To Villa's surprise, four of the companies were, like Healthify, starting to raise Series B funding — the second round of financing for a startup.
"I severely underestimated the ecosystem," said Villa.
Each participant — Jarrett Bauer (Carey Business School, '12), CEO of Health Recovery Solutions; Kevin Callahan (Whiting School of Engineering, '99), chief technology officer of Maggie Louise Confections; Michael Derby (Whiting School of Engineering, '95), CEO of Castle Creek Pharmaceuticals; Jess Gartner (Whiting School of Engineering, '11), CEO of Allovue; Jay Parkinson (Bloomberg School of Public Health, '06), CEO of Sherpaa; Logan Sugarman (Krieger School of Arts and Sciences, '00), CEO of Refresh Body Inc.; Villa (Whiting School of Engineering, '12); and David West (Whiting School of Engineering, '16), CEO of Proscia — was asked to bring a business topic to discuss with the group.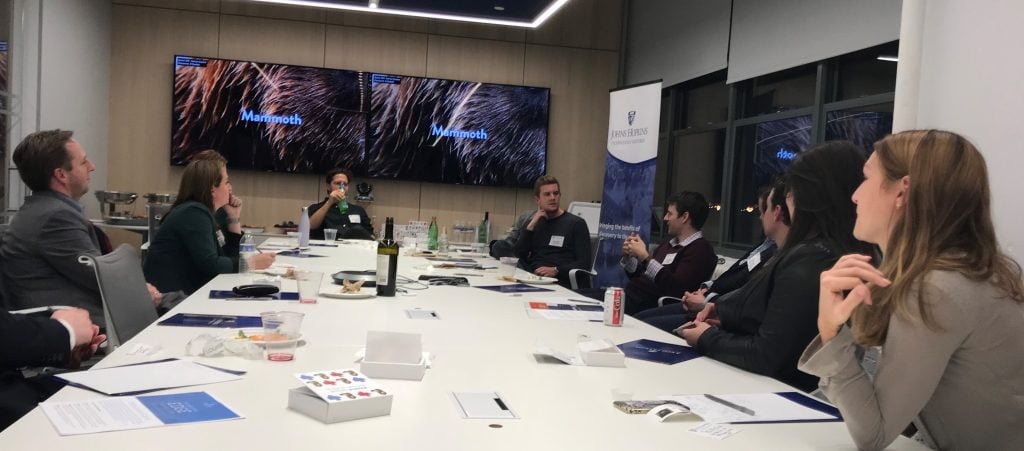 Discussion prompts included: "What is something you need help thinking through?" and "What keeps you up at night?" The participants were a mix of early-stage founders and leaders of more mature companies. Callahan, who also founded Map My Fitness, flew in from Texas just to support the early-stage founders.
"The Founders' Forum represents a highly targeted approach to alumni engagement, recognizing that founders are unique," said Madeleine Stokes, director of innovation initiatives and corporate relations with Johns Hopkins. "Hopkins hosts tons of networking events, but for such busy startup founders, we wanted a really curated experience of true peers."
Villa, who worked with Stokes to shape the event, said the Founders' Forum was similar to events he has seen put on by some of Healthify's investors. The practical advice and tips gleaned from such conversations are critical in helping startups on the path to sustainability.
"Something most of my classmates underestimate is having a cohort of peers to recognize the patterns of being a decision-maker," he said.
Villa added he would participate in future Founders Forum's events, particularly to pay it forward to future entrepreneurs in the Johns Hopkins ecosystem. Such events show Johns Hopkins does more than produce physicians, researchers and bankers, he said.
The Founders' Forum is an extension of Johns Hopkins' recently launched Founders' Pledge program, which is seeking company leaders to give back to the university at the point of a liquidity event — that is, a company exit through merger, acquisition or initial public offering.
"It's a mutual commitment — from the founder to the university in the form of promised time and money back to the institution and from the university to the founder in the form of support and access," said Stokes. "Through the Founders' Pledge and events like the Founders' Forum, Johns Hopkins is recognizing risk-takers and bringing together a community of entrepreneurs."