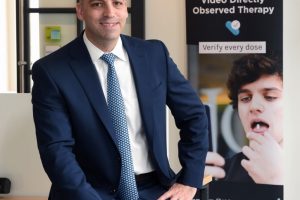 emocha Mobile Health has three offices at FastForward 1812, and CEO Sebastian Seiguer jokes the company would gladly take another two. After five years as an anchor tenant at Johns Hopkins innovator hubs near the East Baltimore campus, however, emocha is ready for its own space.
The company will relocate its headquarters in Baltimore to the 900 block of North Charles Street in Mount Vernon as of May 6.
"We wanted space that would be comfortable now, but could also fit more people in the future," says Seiguer, adding that the company will be growing from 17 employees to 24 in the months to come.
The new 5,000-square-foot office has an open floor plan and is located close to where many emocha employees live, he says.
"In terms of developing culture, it's about the time to define that with physical space," says Seiguer. "Otherwise, I'd stay in FastForward as long as possible."
emocha was founded in 2014 based on technology developed in part by Robert Bollinger, the Raj and Kamla Gupta Professor of Infectious Diseases at the Johns Hopkins University School of Medicine. The company's technology, now used across the United States, allows for remote management of patients, via mobile devices, by researchers and clinicians and provides real-time access to visualize, manage and analyze patient data.
The company's software platform is being used by more than a dozen ongoing research studies at Johns Hopkins. In January, emocha and Johns Hopkins received a $2.1 million grant from the U.S. Centers for Disease Control and Prevention for a study to determine if financial incentives improve the likelihood that patients with opioid use disorder will stick with their treatment plans.
"Adherence is a quickly developing area," says Seiguer. "It's been neglected for a long time. Now, you're starting to see a lot more attention paid to adherence as a way to reduce costs and improve the health of patients."
emocha began operations at DreamIt Health Baltimore, a Johns Hopkins-run accelerator. It moved to the Emerging Technology Centers incubator before occupying FastForward offices. It was one of the first tenants when FastForward 1812 opened two years ago.
"emocha and FastForward have grown up together, and it's with a great deal of pride and a tinge of sadness that we watch emocha take the next step," says Brian Stansky, senior director of FastForward. "It's been a privilege to watch them grow both as a team and as a business."
Seiguer says he appreciates how FastForward's suite of support services assisted the company with administrative tasks, allowing it to focus on growing the business. That job was also made easier thanks to connections fostered through Johns Hopkins Technology Ventures.
"We got opportunities (at FastForward) by visitors coming into the space, whether they were government or other companies, which we would never get access to. And that's been a huge help for us," he says.
Two of emocha's primary investors came through pitch meetings set up by JHTV, and Seiguer says it would have been difficult for a startup like emocha to have the chance to meet with officials from the Centers for Medicare & Medicaid Services or large pharmaceutical companies without being at FastForward.
"Just sitting here, every once in a while you're going to get some cool opportunities," he says.
Seiguer says he will miss the startup community at FastForward, in addition to the proximity to Johns Hopkins. Stansky says he will miss having Seiguer on-site to serve as a friend, adviser and mentor to other startups and the JHTV team.
"His impact on the greater ecosystem extends well beyond his immediate role leading emocha," says Stansky.
In its new office space, emocha will continue its work in the public health market while also moving into the community health space, according to Seiguer. The company also has started contracting with customers on the insurance and clinical sides.