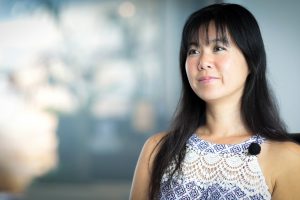 Colleen Cutcliffe, Ph.D., was working as a scientist at a DNA sequencing company seven years ago when she had an idea: create a product with the efficacy of a drug but the safety of a probiotic. She pitched to her CEO her vision of creating within the company a group that would target the microbiome, the bacteria that live on and inside the body.
The CEO said such a move was outside the company's scope. Cutcliffe then took matters into her own hands.
"We started Pendulum more out of, 'Here's this great idea and opportunity, and since we can't do it here, we'll have to start our own company," she says.
Cutcliffe had no entrepreneurial experience but drew on her time at The Johns Hopkins University, where she earned her doctorate in biochemistry and molecular biology.
"I definitely learned how to be a scientist there and how to have a critical mindset when approaching any problem," she says from her Northern California home. "Business problems and marketing problems — the scientific approach can be applied everywhere."
Cutcliffe is one of the latest signers of the Johns Hopkins Founders' Pledge. Company leaders commit to give back to the university at the point of a liquidity event — a company exit through merger, acquisition or initial public offering.
"I learned at Hopkins how to tackle problems, how to break big problems down to small ones you can go after, which has been applicable throughout the course of my career," she says. "So being able to give back to somewhere that is so foundational to how I think about things is one of the things that drew me in."
Pendulum Therapeutics recently launched its flagship product, Pendulum Glucose Control, an over-the-counter product for people with type 2 diabetes.
"People are not used to buying efficacious products. They're used to a doctor prescribing it and, to some degree, it being covered" by insurance, Cutcliffe says. "The challenge is how you bring to market a new product from a new brand from a new company and have people fall in love with it."
Most consumers today say they take probiotics for overall health, Cutcliffe says. She envisions Pendulum on the leading edge of the next generation of probiotics taken for specific medical reasons. The company is one of the first startups to approach medicine like a pharmaceutical firm does, but bring products to market in a different way, according to Cutcliffe. She credits her training at the Johns Hopkins Bloomberg School of Public Health for her perspective.
"The school of public health opens your eyes to all the different tools that can help the public, but you don't have to follow the path everyone else has," she says. "Having scientific rigor, paired with an open mind about how you want to help people, is part of who I am, and a lot of that was foundationally built at Hopkins."
Pendulum has been classified as an essential business in California during the coronavirus pandemic, so it has continued manufacturing its product with a skeleton crew, Cutcliffe says, while most of its 50 employees work remotely. She has been proud to see her teams continue to bond, whether through virtual coffee breaks or social media channels.
"It's been a good experience for seeing our culture come together," she says.
Cutcliffe has built a network of Bay Area entrepreneurs since founding Pendulum. One thing she has noticed about the startup community is a willingness to be vulnerable when dreaming big and putting everything into an idea. At the same time, she reminds aspiring entrepreneurs, "You are not your company and your company is not you."
"You will try and fail at things, maybe a company, but that's not who you are," she says. "Entrepreneurship has a lot of failures. You have to be an optimist to be a founder of a company and have that big vision, and you have to stay true to it despite all the times you get knocked down."
Click here for more information about the Founders' Pledge.