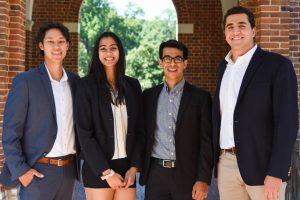 The following was written by Naomi Washington, a former Johns Hopkins Medicine Marketing & Communications intern.
A new Johns Hopkins University student-led health care and life sciences consulting group is giving members experience working with established companies while giving back to student startups.
Cobalt Consulting Group provides industry research, data analysis and planning strategies for biotech companies. The founders are undergraduate students from a variety of academic backgrounds, such as biomedical engineering, pre-med and pre-law studies.
"We wanted to give undergraduates the opportunity to interact with real businesses," said Alex Kernagis, Cobalt's managing partner. "We handle client engagements like you would at a real consulting firm, and also have a great extracurricular experience."
Cobalt's consultants have worked with two Baltimore-area companies so far — Personal Genome Diagnostics and Smith's Detection — and completed three projects.
"We have enjoyed helping the thriving biotechnology startup community in Baltimore," said Andres Melendez, Cobalt's co-founder and a managing partner.
"Our primary goal is to listen to our clients," Kernagis added. "So, at the end of the day it's hearing what they're asking us and relaying that into the research and development of the proposals they are asking for."
Cobalt's leadership team grew from four to 28 in its first year, with total membership at 70 students. Leadership members, who must apply and interview for positions, work directly with the companies and are assigned to projects based on their interests. General membership is open to all students to participate in professional development events.
Cobalt consultants are not compensated for their work, but clients have typically given Cobalt a donation at the end of each engagement. Cobalt received almost $20,000 last academic year, a portion of which it used to fund a student prize during a student entrepreneurship event for FastForward U, the startup accelerator run through Johns Hopkins Technology Ventures.
"It's an amazing opportunity, and we just want to be able to give this to the next generation of students because it's really enhanced our student experience here," Kernagis said.
Fast Forward U helped Cobalt's founders get the group off the ground, build its network and manage its funding.
Cobalt "wanted to be a unique consulting group," said Joshua Ambrose, director of student ventures at FastForward U. "They were looking at Harvard and MIT and other schools that have similar consulting groups, and found that they worked well with the entrepreneurship centers on their campuses."
The founders came up with Cobalt's name — the "balt" is for Baltimore City, Kernagis said. While he said the name is important, the bigger goal is to "be something on campus that people thought of not by the name, but by the work we do in consulting."
Cobalt started meeting clients and each other in person again this fall, according to Kernagis. Long-term, he and the other co-founders want to make sure the organization continues to grow in the coming years so it endures after they graduate.
For more about Cobalt Consulting Group, check them out on LinkedIn and Medium.