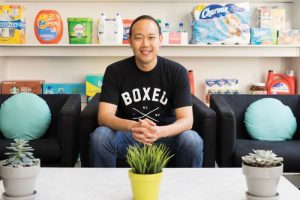 The following was originally published in Johns Hopkins Magazine's Winter 2019 Edition.
In 2013, Chieh Huang, A&S '03, began his startup, Boxed, in a garage in New Jersey. Back then the idea of online grocery shopping was met with skepticism. Huang didn't help his cause when he selected the first 300 items for Boxed to carry.
"It was all like protein powder for making protein shakes, not what our typical customer, a 25- to 34-year-old mom with one-plus child, wants," he laughs. "It was quite a learning experience."
Today the bulk goods online retailer is maximizing the tailwind of cyber shopping, and a team of skilled buyers and merchandisers armed with data handle the selection of items for sale. Boxed has over 400 employees serving millions of customers and annual revenue exceeding $100 million. Thanks to a new giving program, the Founders' Pledge, Huang has agreed to share a portion of his future profits and his current knowledge to ensure that next-gen entrepreneurs have the support they need to graduate their businesses from garage to greatness.
Huang credits much of his success to his experience at Johns Hopkins. He learned the skills of networking at school and met one of his Boxed co-founders there, Christopher Cheung, A&S '03. He quips that just surviving the rigors of Hopkins academics was good training for post-graduation life. Still, he speculates that he might have found his passion for entrepreneurship sooner had there been a stronger innovation community at the school in his era.
"My first entrepreneurial venture wasn't until I was 29, which isn't the youngest entrepreneur on the block for a first venture … Even though I was always interested in business I hadn't developed that entrepreneurial muscle," he explains. After graduating, Huang went to Japan to teach English, then to law school, and to a firm in New York before entering the startup world. "When I graduated from Hopkins, I didn't feel I had that startup community network available to me."
Today the landscape is different, and Hopkins is proactively launching programs like the Founders' Pledge to bolster innovation. In June 2019, Huang joined the first cohort to sign the pledge along with the CEOs of Allovue, Banyan Biomarkers, Gilson Snow, and Motiva AI.
The aim of the new program is to bring financial and intellectual resources back to Hopkins. The pledge is simple and nonbinding: Signers pledge to give a percentage of their profits (suggested at least 1%) at the time of a liquidity event like a sale or merger. Signers are free to designate the gift, be it to campus infrastructure, student scholarships, faculty research, or wherever their passion lies. In addition, signers agree to give of their time by engaging with students, professors, researchers, and other alumni. While nonbinding, the pledge is public.
"We want to celebrate what entrepreneurs and risk takers are doing, to be more intentionally supportive of entrepreneurs in the hard stages, not just after they've become successful," says Madeleine Stokes, director of innovation initiatives and corporate relations. "We also think there's value in founders thinking about philanthropy as part of their company's growth process."
According to Huang, the flexibility of the pledge is part of its appeal.
"I think this is a great way to engage entrepreneurs, especially in tech, because pledging on future outcomes or earnings is much easier than pledging current earnings or outcomes," he explains. "If you think Hopkins was an experience that led you to the success you are currently having or will have in the future, this is a great way to give back without giving a million bucks today."
Huang explains that the pledge is a convenient way to augment his current financial commitments to the school, but he is most excited about the opportunity to engage with the Hopkins ecosystem, particularly students.
"If you just look at business magazines and even look at pop culture and celebrity brands, you'd get the view that this is a cakewalk and before you know it you'll be on the cover of Forbes," Huang continues. "Having a mentor to guide you through the perception of what you think being an entrepreneur is versus the reality of what it's really about is very important."
Stokes underscores that the Founders' Pledge is an important piece of the university's efforts to build a dynamic innovation ecosystem. The program will not only generate funds for innovation initiatives and other great programs on campus but will also contribute to a growing community of Hopkins innovators. Founders' Pledge members are leaders in expanding a network wherein burgeoning entrepreneurs can find mentors and experienced entrepreneurs can connect with talent on campus.
"We want to see people from our innovation community supporting one another," she says. "We want to see alumni investing in student ventures or advising our faculty startups; we want alumni to make customer introductions for our startups or serve on each other's boards of directors—we want this to be a vibrant ecosystem of deep