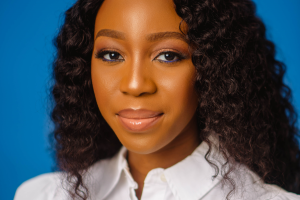 The following was written by Erica Avery, FastForward U's communications intern.
Lauretta Hamza is the first Black woman mentor at FastForward U and Johns Hopkins Technology Ventures. She hopes inspiring the next generation of women of color in entrepreneurship means she will not be the last.
"Being a Black woman in entrepreneurship is to stand out, to dare to be different, and to be unapologetic about your passion and convictions," she says. "It's important to amplify your voice, and the surest way to do this is to stand out by being the best at what you do."
Hamza, a Nigeria-based entrepreneur, plans to draw on her experience as founder of several startups, including: Communal Health Support Scheme, a nonprofit fortifying Nigerian health care systems in marginalized communities; Scribble, which provides tools and resources to help creatives monetize their passions; and Levers, a leading education-technology solutions provider in Africa.
"I find myself wanting to do so much with the founders," says Hamza. "I also know how lonely and tough the path of innovation can get, so I want to share my story, experiences, and insights to be that shoulder for my mentees to lean on
More than half of the teams working at FastForward U in the last year have non-white co-founders, and about half are women-led, according to Josh Ambrose, director of student ventures.
"Diverse teams are the future of entrepreneurship," he says. "It's important to attract a diverse pool of mentors to connect their perspectives and wisdom with our founders. We're incredibly grateful for how our extended mentorship community seeks to empower the next generation of entrepreneurs."
Mecca MacDonald is co-founder of Mo.Na. Gems, a student startup that makes bioplastic and biodegradable accessories and lifestyle goods and took the top prize at FastForward U's Spring 2021 Fuel Demo Day. Just having opportunities to start businesses or even identify as an entrepreneur is a sign of privilege, she says.
"Most of the challenges that exist in the entrepreneurship world are systemic and structural," she says. "That's why that you don't see a Black woman Mark Zuckerberg or Elon Musk. Being a Black woman in entrepreneurship means taking up space — I'm here and I have ideas that will greatly impact this culture and our world."
MacDonald also echoed sentiments that Black women in entrepreneurship are just starting to form communities.
"White men have historical contextual spaces to start businesses and have people to learn from, but minority women don't have those spaces," she says. "[White men] have safety nets in a way that failure is an option to them. When you're a minority woman taking risks, you don't have those social safety nets. Failure not an option— you have to make it work."
Black women have to constantly prove their worth and qualifications, Hamza added.
"I have had to shout the loudest for my voice to be heard, work the hardest to be given opportunities I deserve, and fight the fiercest for me to be able to make an impact," she says. "Many other times, I have had to fight for opportunities because no one had gone ahead to clear the path and so I had to take the first blow."
According to ProjectDiane, 90% of all venture funding raised by Black women founders since 2009 went to just 34 women. By 2020, only 93 Black women each raised $1 million in funding. Black and Latinx women combined received just 0.64% of total venture capital investment between 2018 and 2019.
"We've been economically disenfranchised for centuries and are just finally starting to get our foot in the door," MacDonald says. "When you're a woman of color you have to have a beautiful presentation and have proof your idea works and is worth funding."
Because Mo.Na. Gems cofounders are both women making jewelry, MacDonald says people don't take them seriously.
"If we were men and had this idea and this bioplastic formula, people would think it's revolutionary," she says. "People think we're cute. Sometimes it's hard because people try to project their doubts onto us, and we try not to take it personally."
Kerrie Carden, Ambrose's predecessor at FastForward U, last year founded Equip, which specializes in career and financial planning for marginalized communities.
"Being in entrepreneurship is the opportunity to build the things you believe should exist— what you feel creates a better world, both in the present and for the future," she says. "I'm keenly aware of those who worked to open doors and make ways where there weren't any. It's a gift and honor to benefit from their work and, thus, a calling to do my part to make more and better opportunities for other Black and brown folks."
One of Carden's biggest challenges has been finding the work-life balance that allows her be her best so she can give her best to her clients.
"I'm kind of flabbergasted that I get to spend my days working with primarily BIPOC, queer and trans families to build this future," she says. "To all the other Black women building and innovating: thank you for what you do, I'm rooting for you, and don't forget to rest!"
Hamza also encourages women of color in entrepreneurship not to give up.
"I advise you to be bold, daring and to be you no matter what," Hamza says. "Entrepreneurship for me has been very difficult but rewarding as well. I tell myself that every challenge has a solution and so I keep pushing."
Learn more about FastForward U's mentors here.