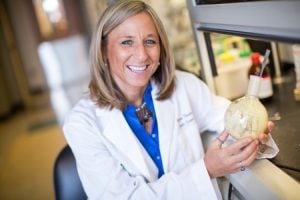 Barbara Slusher, Ph.D., M.A.S., director of Johns Hopkins Drug Discovery, recently sold to Bayer AG her startup that developed a shielding agent for a patient's normal tissue that can be used during a cutting edge, targeted radiotherapeutic treatment for prostate cancer.
"To me," she says, "the science story here is the value of keeping your eyes open, because if you do, failures can turn into successes."
That's because Slusher is not a prostate cancer expert — she is a professor of neurology and vice director of Johns Hopkins Medicine's Pedersen Brain Science Institute. Slusher's "science story" goes back 30 years, to her thesis work at Johns Hopkins on glutamate carboxypeptidase II (GCPII), an enzyme in the brain that generates glutamate — a chemical that nerve cells use to send signals to other cells.
Excess glutamate has been found in a variety of neurological diseases, and researchers have found that blocking GCPII in animals can both limit this excess glutamate and provide other therapeutic benefits. Slusher and her lab have made thousands of GCPII inhibitors over the years, she says. The drugs are "super potent," she adds, but have difficulty penetrating the brain due to their unique structures. This severely hampers their clinical development.
GCPII is also found elsewhere in the body, where the enzyme goes by a different name: prostate specific membrane antigen (PSMA). Elevated PSMA levels are signs of prostate cancer, and in the growing field of nuclear medicine, researchers and pharmaceutical companies are using PSMA inhibitors as imaging agents to help clinicians pinpoint the exact location of tumors. Researchers are also attaching alpha or beta emitters to PSMA inhibitors. The radioactive particles find and kill cells that have elevated PSMA levels — a form of targeted radiotherapy for prostate cancer.
As Slusher and her lab synthesized and tested potential brain-penetrable GCPII inhibitors without success, her postdoctoral fellow at the time, Michael Nedelcovych, posed a question: "If the drugs are not going into the brain, then where are they ending up?" Working with Rana Rais, Ph.D., an associate professor of neurology at the Johns Hopkins University School of Medicine, they conducted a series of tissue distribution experiments to localize the GCPII drug in the body.
"What we basically stumbled upon," says Slusher, "was that our failed drugs for the brain were accumulating in the kidney and salivary glands."
That's because PSMA is found not just in the prostate but throughout the body, including the kidneys and salivary glands. During PSMA-targeted radiotherapy, the toxins bind to PSMA in all cells and kill them regardless of whether they are cancerous. As a result, kidney or salivary gland toxicity is a major side effect of the treatment.
But Slusher's drugs, when administered before the radiotherapy, bind to the PSMA in the kidneys and salivary glands and block the radiotherapy from attacking the healthy cells.
"With our kidney- and salivary gland-accumulating GCPII inhibitors, we were able to selectively protect these normal tissues without affecting the utility of the drug going into the tumor," she says.
Johns Hopkins Technology Ventures, the university's commercialization arm, successfully sought patent protection for the drugs and helped Slusher form a startup company for the technology. She named the company Adarga Pharmaceuticals after the kidney-shaped shields used by the Berbers, an ethnic group in North Africa.
Initial fundraising attempts for the company were unsuccessful, according to Slusher, because Adarga lacked a PSMA radiotherapeutic agent to shield against.
"Potential investors weren't discouraging on my idea," she says. "They were discouraging on my strategy."
Slusher was advised to look for a partner with a PSMA radiotherapeutic agent and found one in John Babich, M.D., the chief of radiopharmaceutical sciences in radiology at Weill Cornell Medicine and founder of Noria Therapeutics, which was developing PSMA radiopharmaceutical agents. Adarga combined with Noria to form PSMA Therapeutics.
"As soon as we combined, we got investor interest," says Slusher.
Bayer also expressed interest and announced in early June that it was acquiring Noria and PSMA Therapeutics to "broaden [its] existing oncology portfolio of targeted alpha therapies."
While Slusher has gained expertise regarding kidneys, salivary glands and prostate cancer, her future research will return to its original focus.
"I have several National Institutes of Health-funded grants and remain committed to designing a GCPII inhibitor that can get into the brain for the treatment of neurological disorders," she says. "So, while our GCPII efforts in prostate cancer are over, our neurological research continues."