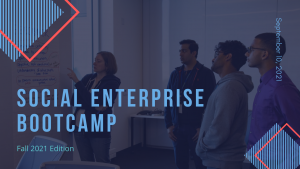 The SAIS Social Enterprise Accelerator, Co-curricular and Experiential Learning Office, and JHU Social Innovation Lab present the SOCIAL ENTERPRISE BOOTCAMP FALL 2021.
Who is eligible? Current JHU Students enrolled in ongoing degree programs are invited to attend the Social Enterprise Bootcamp, a one-day intensive program focusing on skills essential for launching and leading a community project, non-profit, or mission-driven business.
When? Friday, September 10, 2021
Time? 10:00AM – 4:30PM, EST
Location? Johns Hopkins SAIS, Washington DC (Note: Baltimore-based students will need to travel to Washington D.C. for this event!)
Details: 
As part of the Social Enterprise Bootcamp, students are invited to participate in a PITCH YOUR IDEA competitive event, which offers students a platform to present their novel ideas or emerging projects to a panel of social innovators. Pitches will be evaluated based on their emotional connection, credibility, documentation, clear solution, succinct description, and your ask. The TOP 3 pitches will be awarded prizes.
To register for the event, complete the form below. Preference will be given to participants coming with an existing idea or project that they are looking to grow:
https://bit.ly/SEbootcamp-fall21
Have questions? Email [email protected]