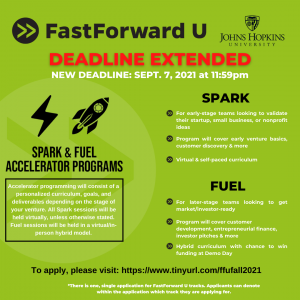 Students are encourage to apply for FastForward U's Fall 2021 Accelerator cohorts.
Whether you have a starting idea for the best new business, or are further along in your startup journey and are now looking to get investor-ready, there is a curriculum for you. Accelerator teams are provided access to exclusive talks with industry entrepreneurs, opportunities to co-work with fellow student teams, funding gifted toward their ventures and more.
Apply now – applications close at 11:59pm on Sept. 7, 2021.