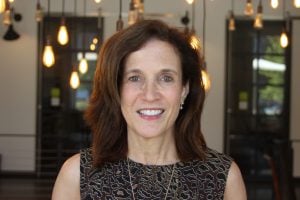 Helen Montag is Senior Director for Ecosystem Development at Johns Hopkins Technology Ventures (JHTV), the commercialization arm of the University. In this role, she is responsible for strategic efforts to grow the innovation ecosystem in Baltimore, leveraging Johns Hopkins' relationships and infrastructure to attract and retain talent, companies, real estate investment and other forms of resources to support researchers and startups in and around Baltimore. Helen began this role in January 2021.
Helen has been at Johns Hopkins since 1999 and throughout that time has been involved in strategic efforts to advance Johns Hopkins' innovation agenda. When JHTV was formed in 2014 to centralize commercialization and entrepreneurship activities, Helen was charged with the creation of a best-in-class Corporate Partnerships function to maximize campus research collaborations with industry partners. She built and led the JHTV Corporate Partnerships team for eight years, sourcing, shaping and managing an industry partnerships portfolio that brought over $120 million in sponsored research funding to Johns Hopkins researchers. Earlier in her career at Johns Hopkins, she developed the Johns Hopkins Alliance for Science and Technology Development program as well as other programs that train faculty in entrepreneurship. Helen was involved in the early stages of development for the Johns Hopkins Science & Technology Park in East Baltimore, which houses the university's flagship innovation hub and dozens of startups and research/manufacturing entities.
Helen received her undergraduate degree from Harvard College, attended the University of Maryland School of Medicine, received a Master of Public Health degree at the Johns Hopkins Bloomberg School of Public Health and completed doctoral work there as well. Helen has lived in Baltimore since 1987. She was a 2018 member of the Greater Baltimore Committee (GBC) Leadership Program. She has been on the boards of The Family Tree, the Roland Park Community Foundation and the Bryn Mawr School. She spent 12 years on the board of Samuel Ready Scholarships, a Baltimore based non-profit which provides full tuition for girls from disadvantaged backgrounds at Baltimore area private schools, the last two as president.