Aquatas is comprised of five undergraduate students at Johns Hopkins with a passion to make clean water accessible. Our team's biomedical and chemical engineering backgrounds support device development, and our business and communications knowledge aid in strategy and implementation.
Our Pitch
About Us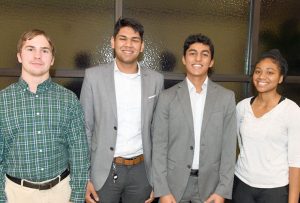 The Team
Paarth Sharma, Anish Mokha, Maya Foster, Shivam Rastogi, Zach Schmidt, and Varun Venkatesh
Aquatas addresses the need for accessible water purification technologies with regionally appropriate, easy-to-use system designs featuring our affordable water purifier. Our device is a mechanically powered reverse osmosis system that can purify water containing salts, biological pathogens, and heavy metal contaminants. Aquatas has developed a functional prototype that has been used to validate and test our design concept. Within the last six months, we have formed valuable partnerships for international pilot studies, verified our device performance with thorough lab testing, and have begun preparing for market entry.
On the Horizon
Aquatas requires funding for further technical development to ensure that our device can optimize its water purification capability with a design conducive to affordable mass production. We will also be conducting longitudinal pilot studies to determine the device's benefits over time across our key indicators.
In the News
Contact Us
Email [email protected] to connect with us.