FastForward U recently welcomed an Assistant Director, Student Ventures, Paul Davidson, who will focus on working with the accelerators, mentorship and building ecosystem connections. The following interview details his journey within the startup ecosystem and his goals at FastForward U.
Tell us about your background.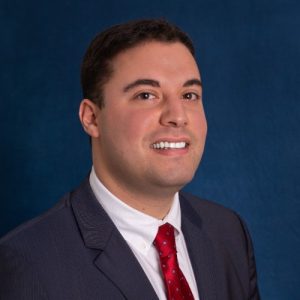 I grew up outside of Washington, D.C. and then moved to Wisconsin where I earned my undergraduate and graduate degrees from the University of Wisconsin-Madison while serving as an AmeriCorps member. After completing my master's in Urban Studies, I moved to Baltimore to take on roles at the Johns Hopkins University Center for Talented Youth (CTY) and Towson University with the Coalition of Urban and Metropolitan Universities (CUMU). At CUMU, I supported over 100 university members in developing practices to support the cities and communities in which they are located.
In 2021, I returned to Johns Hopkins and served as the Assistant Director of Life Design for Computer Science and Electrical and Computer Engineering. This role allowed me to be student-facing again, with the added opportunity to build connections with employers, faculty and additional campus administrators.
Fun facts about me: I am a twin and had pet frogs growing up. When I'm not working, I enjoy exploring Baltimore city, traveling and watching Wisconsin football.
What inspired you to pursue your current career path?
Academically, I gravitate toward exploring how cities and their assets can create economic development. Professionally, supporting students and future leaders has been the most satisfying part of my career. I jumped at the opportunity to combine my two interests and serve as the Assistant Director of Student Ventures. This role focuses on teaching, developing programs and meeting with students while working to strengthen partnerships in Baltimore.
What interests you about entrepreneurship? 
Entrepreneurs. They possess an energy and passion for creatively addressing problems and building effective relationships. Often, entrepreneurs are more connected to their communities because of necessity. To succeed, they need to identify teammates, customers, and other cheerleaders to gain influence, and this usually starts locally. In the context of Johns Hopkins and Baltimore, this means entrepreneurs must be in-tune to city dynamics and community needs, which is exciting for me with my interdisciplinary urban studies background.
What venture/organization inspires you?
I've always looked up to Steve Jobs because Apple developed products that no one thought were needed and that are now ubiquitous in our society. I'm also inspired by ventures that address social and environmental issues, such as the entrepreneurs who developed software to increase the efficiency of food distribution and sped up deliveries to food banks during the pandemic. Crises can lead to innovation, and it is exciting to see how technology and products can address some of society's most pressing challenges.
What is your greatest achievement so far?
While earning my degrees, I learned how to develop and implement engaging and impactful lessons as a part-time teacher at synagogues and K-12 schools. This has been my greatest achievement: teaching effectively during the pandemic. When the pandemic hit, my team and I at CUMU were charged with creating learning opportunities for members. Despite the constraints of a virtual classroom, I was able to create an environment that was rewarding and productive for participants.
What is the most pressing challenge faced by startups?
Economic risk and uncertainty. The global economy bounced back from the lows of the great recession 15 years ago with over a decade of slow growth to then be completely upended by the pandemic. The pandemic, while ongoing, seems to be under control from a public health perspective, but startups are now navigating significant uncertainty with inflation, increasing interest rates and cuts in venture capital funding. Startups that are flexible and nimble will be in a better position to succeed.
What values do you hope to impart to student founders at Johns Hopkins University?
I hope that founders will have strong ethics and be thoughtful of how their ventures may impact the community and environment. Startups seek to disrupt the status-quo, but that does not always lead to positive change. I look forward to helping founders strategize how to succeed and benefit communities on the local and global scale. Also, I want to help students recognize that Baltimore is a city where they can continue to grow and prosper, which will in turn lead to growth and strength in the city.
What do you look forward to the most while working at FastForward U?
I look forward to supporting students across all nine Johns Hopkins schools to help them launch ideas or grow existing ventures. I'm excited to collaborate with campus leaders and increase our partnership with the strong Johns Hopkins alumni network. Additionally, I'm eager to strategize and execute plans to increase opportunities for first-generation, limited income and underrepresented minorities in the innovation space. Lastly, I look forward to connecting students to resources, funds and mentorship to support their journey in the Johns Hopkins innovation ecosystem.
If you are interested in speaking with Paul, you're invited to schedule a meeting by emailing us at [email protected].