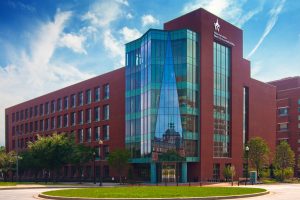 The following was originally published by Johns Hopkins Medicine.
Elia Duh, M.D., is one of the world's leading experts on medical conditions in the back of the eye, such as diabetic retinopathy and wet macular degeneration. One major contributor to both diseases stems from abnormalities in the blood vessels of the eye, such as overproduction of new capillaries or excessive leakage of fluid.
While treatments exist for advanced stages of the diseases, most are invasive, including frequent and ongoing drug injections in the eye. There are no treatments for earlier stages of disease. Therefore, potential new treatments, like oral medications that might arrest disease at an earlier stage, are highly sought after and would dramatically advance available therapeutic options.
That specific research angle brought Duh and other Wilmer researchers together with German pharmaceutical maker Bayer. In 2015, Bayer and Johns Hopkins entered into a five year collaboration agreement to jointly develop new ophthalmic therapies targeting retinal diseases. The goal: to accelerate translation from the laboratory to the clinic and offer patients new treatment options.
Interested faculty members submitted proposals, and Bayer funded joint research projects with several Wilmer faculty members, including Duh; Don Zack, M.D., Ph.D., the Guerrieri Professor of Genetic Engineering and Molecular Ophthalmology; Jim Handa, M.D., the Robert Bond Welch, M.D., Professor of Ophthalmology; Jerry Lutty, Ph.D., the G. Edward and G. Britton Durell Professor of Ophthalmology; Jeff Mumm, Ph.D., the Helen Larson and Charles Glenn Grover Professor of Ophthalmology; Noriko Esumi, M.D., Ph.D.; and former faculty members Derek Welsbie, M.D., Ph.D., and Debasish Sinha, Ph.D.
"Bayer looks to us for ophthalmic expertise," Duh says. "With our perspective, our animal models for studying eye diseases and our understanding of the mechanisms that drive these ophthalmic diseases, we hope to find new therapeutic options with innovative molecules that come from Bayer's internal research."
For Bayer, the process of identifying promising researchers to support financially with a strategic alliance began long before the collaboration relationship was formalized. It started with what Bayer calls a "landscape analysis" of published studies and National Institutes of Health funding grants, and close examination of university research programs. That analysis yielded a handful of promising research avenues, including Wilmer faculty's work, and Bayer reached out to see if a match could be made.
"Bayer naturally wants to partner with academics who are doing cutting-edge research, and we look to pick partner institutes for strategic alliances who have well-established and high expertise in the disease biology field. The Wilmer Eye Institute and Dr. Duh fit that description," says Marion Hitchcock, strategic alliance manager at Bayer, who oversees the relationship with Wilmer and Duh. "Our aim is to join forces and complement the strong disease expertise by contributing Bayer's experience in drug discovery and development to the partnership."
Duh's first collaborative project with Bayer centered on a protein called Nrf2. Nrf2 is an important protein that protects against inflammation and oxidative stress. Duh's research with Bayer identified a new treatment strategy to enhance activity of Nrf2. It showed very promising benefits in an animal model, and Duh and his research partners at Bayer are currently preparing to submit their study for publication.
Duh says that his partnership with Bayer was something new to him, as it was to many of his Wilmer colleagues. Academicians have not traditionally partnered closely with their counterparts in pharmaceutical companies, but that paradigm is changing as the cost and complexity of drug research and testing have grown in recent years. Each party brings unique expertise to these important clinical problems, he notes.
"The attractiveness of a relationship with Bayer is their strong tradition of pharmaceutical innovation and drug development, and we can bring our ophthalmic expertise," Duh says. "Working together we hope to introduce new treatment strategies to patients."
Hitchcock says that Bayer benefits not just from the possibility that new therapeutic options for patients will arise but also because the experience of working with academia is so different from that of industry. The two look at problems in such different ways, she says, that it opens minds to new ideas that otherwise might not come to fruition.
"At Bayer, we're proud of the relationship with Wilmer and Dr. Duh and very happy with it," Hitchcock says. "Dr. Duh has very high enthusiasm for his research and, like Bayer, a great desire to bring innovation to patients."