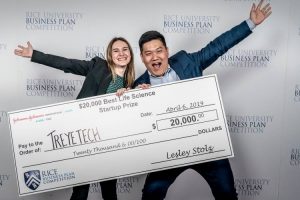 The following was originally published in The Hub.
A Johns Hopkins engineering team took home more than $30,000 in grants and prizes from the Rice Business Plan Competition after presenting their designs for a device that makes corneal transplant surgery easier.
Treyetech was selected out of more than 300 applicants to compete in the life sciences/medical devices/digital health category. The company received four awards, including the TMCx Life Science Accelerator Prize, which was accompanied by an invitation to join the next cohort. The cash prizes included:
JLABS@TMC Best Life Science Startup Prize ($20,000)
Courageous Women Entrepreneur Investment Prize ($10,000)
Semifinal Round Flight 3, fourth place ($1,500)
Treyetech members Kali Barnes and Eric Chiang, who will graduate with their master's degrees in biomedical engineering next week, presented the team's work. Together with their Treyetech teammates, they have created a device that prepares and transports a donor's cornea graft from an eye bank to surgeons, eliminating an unrolling step and allowing for a more effective and successful insertion into the eye.
Corneal transplants can be difficult due to the tissue's propensity for scrolling up on itself, making it difficult to unroll during implantation. The Treyetech method uses a specific folding configuration and a proprietary device that allows the tissue to pop into place naturally once transplanted.
The company is pursuing patents for its technology through Johns Hopkins Technology Ventures. Its device is being used successfully in canine corneal transplantation in Washington and at the University of California, Davis.
Treyetech previously received grant funding from the Ralph S. O'Connor Undergraduate Entrepreneurship Fund through FastForward U.
Treyetech has also snagged victories at the Texas Christian University's Values and Ventures Business Plan Competition in 2017 and received a Lemelson-MIT Student Prize in 2018, among other competitive wins.
The Rice Business Plan Competition is the world's largest graduate-level student startup competition, designed to give college entrepreneurs an opportunity to fine-tune their business plans and elevator pitches. This year's competition brought together 42 teams to compete for various grants and monetary prizes.