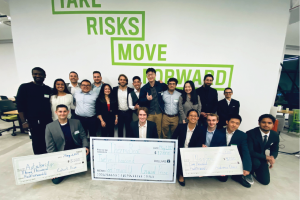 The FastForward U community celebrated May Day 2023, with a gathering of over 200 students, faculty, families, and local entrepreneurs to hear nine student teams pitch for funding. Fuel's Spring Demo Day, held at Johns Hopkins University's student innovation hub, was the culminating event in a semester-long accelerator for advanced-stage student ventures. Each of the nine teams had already been awarded a stipend of $5,000 and competed for a further $20,000 in prizes before a panel of highly accomplished judges. At the end of the evening, the audience also voted for their favorite pitch.
Josh Ambrose, Director of Fast Forward U, has shepherded these teams throughout the semester: "We are proud of our student entrepreneurs and excited for how student entrepreneurship on campus is thriving. The teams ranged from undergraduates at Krieger School of Arts and Sciences, to graduate students at the Carey Business School, to PhD student representation from the Johns Hopkins School of Medicine."
The following awards were made:
The $3,000 Cohort Prize went to Aptabridge, helmed by W. Taylor Cottle, a graduating PhD candidate from the School of Medicine.
The $5,000 Audience Choice Prize went to MagGenix, led by senior undergraduates from the Whiting biomedical engineering program, including Joshua Devier.
And the $12,000 Grand Prize, as decided by the judges, went to ThermoBeat, which was represented by

Will Blair

, an senior undergraduate from Krieger School of Arts and Sciences.
Some ventures already have FDA approval, others are working their way through the provisional-patent labyrinth, but all were highly accomplished, polished presentations, eliciting big rounds of applause. Among the finalists were cancer therapeutics and immunotherapies, a way to extend the life of pacemaker batteries, encapsulated plant nutraceuticals, cell therapy using magnetogenetics, and a sustainable clothing platform.
The $65,000 in financial support distributed to the teams was nondilutive, with no strings attached, thanks to generous alumni support from the Ganz Foundation and the Migliaria Family Foundation.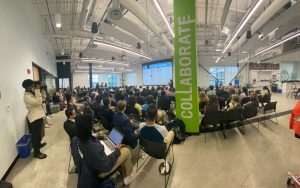 Four highly accomplished judges asked generous but provocative questions of the finalists, and stayed to talk to students afterwards:
Fuel's Spring Demo Day was one of three start-up showcases on campus that week, which were also part of more than a half-dozen in the month of May, and reflects the extraordinary volume of activity and growth happening from all over the Johns Hopkins campuses.
Spring 2023 Fuel Teams:
AptaBridge (SOM): creating next-generation immunotherapy molecules that leverage DNA nanoparticles to modulate the human immune system and fight cancer.
AuthFind (Carey): utilizes machine learning, AI, and blockchain to streamline insurance prior authorization workflows and reduce processing times.
The Impact Stylist (Carey): an AI-driven personal styling service curated with sustainably made clothing
JJ Innovative Materials (WSE): carbon capture and storage technology, focusing on the construction materials industry, with a first product of hemp board built with hempcrete.
MagGenix (WSE): developing a magnetogenetic cell therapy platform
Maine Bee (KSAS): FDA-approved and biology-inspired encapsulation methods that make it possible to infuse culinary ingredients with nutraceuticals and plant nutrition.
Master Wheel (WSE): cross-platform dual pedal gaming controller for pediatric patients who need to rehabilitate their foot and/or ankle to regain strength and mobility.
Release Therapeutics (WSE): a preclinical startup venture focused on developing drug delivery solutions to areas of unmet clinical need in ENT surgery.
ThermoBeat (KSAS): harnesses the thermal energy of the body to power medical devices and uses machine learning to predict cardiac disorders.