This spring, two teams of faculty scientists affiliated with the Johns Hopkins School of Medicine, and the Department of Biomedical Engineering, received research grants through the Cohen Translational Engineering Fund.
The fund, made possible by a generous commitment from Sherry and Neil Cohen '83, serves as a catalyst for translating cutting-edge research into practice by providing faculty with critical early funding. The grant is designed to help researchers move their work out of the laboratory and towards commercialization — the process includes developing patents, obtaining materials and supplies, and building prototypes.
"The pioneering work and level of innovation we have seen come out of the Whiting School of Engineering and Johns Hopkins overall is extremely impressive," says Neil Cohen, founder and chairman of venture capital firm Emerald Development Managers. "We congratulate Dr. [Stephany] Tzeng, Dr. [Jordan] Green, Dr. [Nicholas] Durr and Mr. [Taylor] Bobrow on their achievements to date and look forward to following their progress. What delights us about the grants made by this fund is their ability to catalyze commercialization of important research while also helping the Whiting School of Engineering achieve its strategic goals of translating research into practice."
Grantees receive a maximum of $100,000 for a nine-month project. Since its inception eight years ago, the Cohen Fund has awarded more than $1.5 million for 30 projects. Last year's recipients included Smart AM, which monitors 3D laser printing in real time to save manufacturers time and money; and a system for early detection of necrotizing enterocolitis, using a novel near-infrared sensor, which can detect a potentially deadly disease in infants and premature babies before symptoms appear.
A panel of experienced researchers, engineers, startup entrepreneurs, and business executives reviewed presentations from the finalists.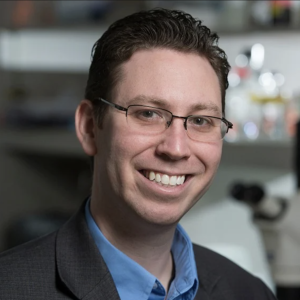 Principal Investigators:
Drs. Jordan Green (pictured), Professor of Biomedical Engineering
Stephany Tzeng, Assistant Research Professor of Biomedical Engineering
The Pitch:
A novel gene therapy which reprograms solid tumor cells, by injecting the tumor with immunotherapy via biodegradable polymers, to trigger an anti-tumor immune response in the body.
Among the research performed by Dr. Green's lab is the designing of next generation materials that have biomimetic properties and can interface with the immune system. In some cases, these materials activate the immune system to mount an attack against metastatic cancer cells.
In this instance, Drs. Green and Tzeng have created a novel immunotherapy using nanoparticles, which can be applied to a wide range of solid tumors, to trigger an anti-tumor immune response in the body. This immunotherapy is delivered via biodegradable nanoparticles and injected into the tumor, where the nanoparticles release genes that activate the immune system. Their initial research focused on metastatic melanoma, where the survival rate is less than five years, and there is a great need for more effective treatment. Solid tumors that are local and easily accessible, can be removed surgically, or otherwise treated in a clinical setting. But metastases, which count for more than 90% of cancer deaths, are more challenging to address.
By genetically reprogramming tumor cells, their strategy would significantly reduce cost and regulatory effort, as no manipulation of cells outside of the body is required. Because the same nanoparticles are used to treat all solid cancers without needing to be customized for each disease type, it will also expand patient access at the same time.
T (immune) cells become activated directly by reprogrammed tumor cells, so the resulting immune response will be specific for each patient's individual cancer. Going forward, they foresee that this therapy can also be used to treat many forms of cancer that manifest in solid tumors, including breast, colon, prostate, and ovarian.
Dr. Tzeng reports that "JHTV has pointed us toward funding opportunities designed to help move technologies from academic labs toward commercialization, including the Cohen fund. Their support in preparing our applications has been very helpful for securing this type of funding for commercialization activities, that would otherwise be difficult to cover using funding sources available to academic labs."
Drs. Green and Tzeng have formed OncoSwitch Therapeutics, LLC., as a vehicle to license and commercialize this technology. The Johns Hopkins University applied for a patent in March 2020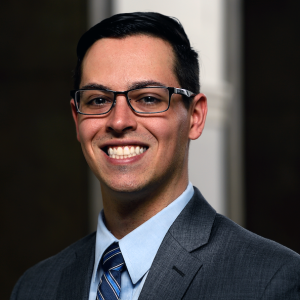 Principal Investigators:
Dr. Nicholas Durr, Assistant Professor of Biomedical Engineering
Taylor Bobrow (pictured) a graduate fellow in Dr. Durr's Biomedical Engineering Lab
Dr. Nicholas Durr's bioengineering lab (https://durr.jhu.edu/) uses "concepts from optical engineering, light-tissue interaction, computer vision, machine learning and bio-design to invent new ways to see and treat disease."
The Pitch:
Using a lens-free holographic imaging device to monitor continuous, real-time, non-invasive assessment of urine output from a patient.
Dr. Nicholas Durr and Taylor Bobrow are working with a team of researchers at Hopkins to create a small lens-free device that uses holographic imaging to analyze urine as it flows through catheter tubing from a patient to a collection bag.  Using a simple camera and light-emitting diode, which is a semiconductor that acts as a one-way switch for current, the device can detect biomarkers ranging from red and white blood cells, to bacteria and other microscopic clusters of urinary particles known as casts.
There is an urgent need for the early detection of UTIs (urinary tract infections) frequently caused by catheters. Currently, testing for such infections, blood and other biomarkers requires precise specimen collection and the handling of infectious human waste, managing controlled urine storage, and timely transportation to modern laboratory equipment for analysis.
The critical element in assessing these biomarkers is time. The more time needed for this potentially lengthy process, increases the likelihood that a sample will deteriorate, useful elements may be missed, and time lost to treat patients. The device offers continuous snapshots in real time, giving physicians the chance to catch critical indicators from a patient immediately. Room to expand what the device can monitor is part of the team's plan going forward.
Dr. Durr adds: "Johns Hopkins Tech Ventures (JHTV) has helped with filing IP to protect our tech, and providing funding not only from Cohen, but from the Louis B. Thalheimer Fund for Translational Research, to kickstart our efforts in commercializing the technology. Without that seed funding, we often put the start-up work and consideration on the backburner. So it's been extremely important to incentivize and push us to get started. Also helped by networking, guidance on other funding opportunities, and the potential for future resources like incubator, office and lab space. And With JHTV's help, the team is working its way through the non-provisional patent process and will continue to refine their prototype and expand what it can detect."
The team also includes Stuart Ray, Vice Chair of Medicine for Data Integrity and Analytics, Department of Medicine, Professor of Medicine; Rene Vidal, Professor of Biomedical Engineering, Director of the Mathematical Institute for Data Science, Professor of Applied Mathematics and Statistics, Computer Science and Mechanical Engineering and Computer Engineering; Ben Haeffele, Associate Research Scientist and Faculty Member, Mathematical Institute for Data Science and Center for Imaging Science; Carolina Pacheco, PhD Candidate, Johns Hopkins University; Gregory McKay, MD/PhD Candidate Johns Hopkins University; and Teja Maruvada, PhD Candidate in the Department of Bioengineering Innovation and Design.