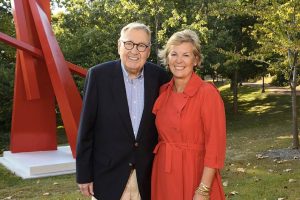 They've identified major challenges, now five ventures led by Johns Hopkins students have the opportunity to develop innovative solutions with support from FastForward U's Ralph S. O'Connor Undergraduate Entrepreneurship Fund.
The fund — founded by Ralph O'Connor, a Johns Hopkins Krieger School of Arts and Sciences alumnus, and his wife, Becky — will provide each member a $5,000 non-dilutive grant, an opportunity to earn $5,000 more and mentorship from FastForward U.
"Where some see only problems, this group of precocious student entrepreneurs sees opportunities to drive change through innovation" says Darius Graham, director of student ventures. "We believe that our 2017-2018 cohort possesses transformative ideas and the skills and tenacity to bring them to life.
"We hope that, like in years past, the teams use the resources the O'Connor Fund provides to reach their full potential."
Over the past four years, the O'Connor Fund has supported 17 teams of Johns Hopkins student entrepreneurs. Already, a number of these have begun disrupting industries. Take, for example, Fractal Tech, a cybersecurity startup acquired by Sunayu last summer. Or, consider Proscia, a startup that has raised over $1 million to develop its digital pathology platform.
Due in part to the successes of these peers, interest in the O'Connor Fund has spiked. Over the past two years, the O'Connor Fund has received a total of 71 applications, compared to a total of 29 for the 2014-2015 and 2015-2016 cohorts.
"Demand for programs like the O'Connor Fun has surged," Graham says. "Through FastForward U, we hope to empower students to pursue innovation and entrepreneurship while in school or at some point in their professional careers."
Venture: Atana
Lead: David Shi (Senior, Krieger School of Arts and Sciences)
Description: Atana is creating secure and scalable distributed ledger infrastructure for collaborative research and development networks.
"We are hoping that the O'Connor Fund will help us secure additional strategic partnerships and accelerate our current pilot studies," says Shi, the founder and CEO of Atana.
Venture: OtoGlobal Health
Lead: Aseem Jain (Senior, Whiting School of Engineering)
Description: OtoScreen is an affordable, smartphone-based Otoacoustic Emissions device that is designed to penetrate the developing world health care market and establish the standard of care for pediatric hearing screening in developing countries.
"We look forward to working with FastForward U to achieve business goals and hope to leverage their connections to find Johns Hopkins professors who can help us improve our technology," says Sanjay Elangovan, OtoGlobal Health's COO. "Although our device is ready for testing, until now, we've lacked the necessary funding. The O'Connor Fund will help us obtain better hardware for our technology, and will enable us to validate our idea."
Venture: Treyetech
Lead: Eric Chiang (Senior, Whiting School of Engineering)
Description: Treyetech is a business-to-business venture that facilitates corneal transplants with a new device and disruptive workflow, improving patients' vision beyond the current standard of care.
"The Treyetech team is thrilled to be a part of the 2017-2018 Ralph S. O'Connor Undergraduate Entrepreneurship Fund cohort, and we look forward to JHTV's guidance and support as we navigate manufacturing and testing for our device," says Stephanie Cai, a co-founder of Treyetech and a senior biomedical engineering major. "The O'Connor fund will provide us the resources necessary to conduct important pre-clinical studies and push forward with commercialization in the coming year."
Venture: VersaMaker
Lead: Travis Chan (Sophomore, Whiting School of Engineering)
Description: VersaMaker is a maker device with modular tool heads so that the users can change its functionality from 3-D printing to CNC routing to laser engraving to liquid printing and more — all from a single, versatile machine.
"The O'Connor Fund's monetary award will allow me to prototype and reiterate my product much faster. I will use the $10,000 and additional funding, towards prototyping, conferences, customer research, and possibly towards creating a crowdfunding campaign," says Chan, the founder of VersaMaker. "However, the O'Connor Fund offers more than just money. FastForward U sets up each company with an experienced mentor from their Mentor-In-Residence program and I hope to get some advice and connections from this opportunity. In addition, FastForward U offers accounting/tax resources and legal support which will definitely come in handy for me around tax season and when I patent aspects of my product."
Venture: Weel
Lead: Eyan Goldman (Sophomore, Whiting School of Engineering)
Description: On a mission to connect friends through commerce, Weel is creating a digital platform which introduces the social aspects of retail shopping to the rising world of ecommerce.
"The capital provided by the O'Connor Fund will enable Weel to accelerate its timetables by expanding our development capabilities, ultimately enabling us to have an earlier beta release," says Goldman. "The resources the O'Connor Fund provides are especially exciting. As an early stage startup, we use all resources available to us. Being part of the Johns Hopkins Technology Ventures ecosystem is something that we really look forward to."
Click here to learn more about the Ralph S. O'Connor Undergraduate Entrepreneurship Fund!