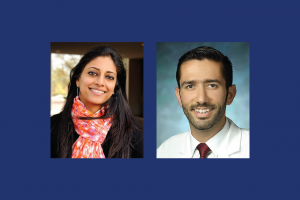 Two Johns Hopkins research teams have received technology development grants totaling more than $150,000 through the Louis B. Thalheimer Fund for Translational Research.
A total of 28 researchers applied for the latest funding round. Finalists pitched their proposals virtually in June to an outside panel of independent researchers and investors, innovation executives and venture investors.
"We are continuously excited by the number of high-quality applications and novel technologies that demonstrate the strength of the commercialization efforts of our faculty," says Nicole Snell, assistant director of ventures at FastForward, Johns Hopkins Technology Ventures' startup accelerator program.
Established through a generous $5.4 million gift from businessman and philanthropist Louis B. Thalheimer, the fund provides seed funding for vital proof-of-concept and validation studies of valuable Johns Hopkins technologies.
Since 2016, the Thalheimer Fund has awarded more than $1.5 million to 18 projects at Johns Hopkins. Grants range from $25,000 to $100,000, and all recipients have formally reported their inventions to JHTV.
The projects receiving the grants are:
A Novel Tool for Diagnosing Epilepsy from Scalp EEG
Principal investigators: Sridevi V. Sarma, Ph.D., associate professor in the Department of Biomedical Engineering at The Johns Hopkins University, and Khalil Husari, M.D., associate professor in the Department of Neurology at the Johns Hopkins University School of Medicine.
The pitch: A faster and more accurate way to diagnose epilepsy
More than 3 million Americans have epilepsy, a neurological disorder characterized by unpredictable seizures. For almost 100 years, an epilepsy diagnosis has been performed by a doctor manually reading results of a scalp electroencephalography (EEG) head scan. Clinicians look at EEGs for abnormalities in the scanned brain waves between seizures, when the brain is considered at rest. These abnormalities are indicators of epilepsy.
The abnormalities don't always present themselves, however, leaving the EEGs inactionable. The result is a nearly 30% misdiagnosis rate of epilepsy. Untreated patients are at increased risk of seizure recurrence, and patients incorrectly treated face all of the handicaps of a diagnosis, including lifestyle limitations and employment and driving restrictions, as well as potentially unnecessary and costly medical procedures and medications.
Sarma and Husari have developed an EEG analytics algorithm that uses at-rest data to build a "heat map" of a patient's brain activity that a doctor can then quickly and definitively interpret. They plan to use the Thalheimer funding to perform a study of 200 patients to validate the algorithm's accuracy, as well as customize another algorithm that removes excess brain activity from the heat map.
JHTV is seeking patent protection for the technology.
Continuous Monitoring of Vulnerable Fetal Brain Using Ultracompact Endovaginal Ultrasound/Photoacoustic Sensor
Principal investigators: Jeeun Kang, Ph.D., research scientist at the Johns Hopkins Whiting School of Engineering's Laboratory for Computational Sensing and Robotics, and Emad M. Boctor, Ph.D., associate research professor in the Whiting School of Engineering's Department of Electrical and Computer Engineering
The pitch: A more accurate and continuous fetal monitoring device
Fetal brain injuries such as hypoxic-ischemic encephalopathy (HIE) — a lack of blood or oxygen to the brain — can cause lifelong disabilities, including cerebral palsy. Of the 4 million births annually in the U.S., the incidence of poor respiratory circulation and weak muscle tone (signs of HIE) is 4.2% for full-term babies and 30% for preterm babies. Electronic fetal heart monitoring has been the standard method of care for 50 years and is used in 85% of all labors, but it fails to manage any potential problem — it neither identifies a cause of HIE nor predicts an eventual neurologic injury.
Kang and Boctor, along with colleagues in maternal-fetal medicine and neurophysiology, have developed a device that uses photoacoustic and ultrasound imaging to continuously monitor both the fetal brain and labor progression from inside the vagina, allowing pediatricians and obstetricians to promptly detect and treat HIE and other potential complications while eliminating the need for multiple, invasive checks of cervix dilation.
The researchers plan to use the Thalheimer funding to build a prototype for clinical use. JHTV is seeking patent protection for the technology, and the team is considering whether to establish a startup for the technology or license the work to an existing company.