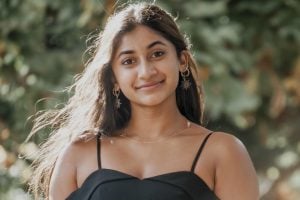 The following was written by Erica Avery, FastForward U's communications intern.
When Shanthi Ramakrishna visited her family in India when she was in high school, she would bring home ethically made pants to sell in the United States, reinvesting the revenue into various community-based organizations and nonprofits in India. But Ramakrishna also saw how the artisans, many of whom were impoverished, could use their weaving, tailoring and looming skills to better their lives.
The sophomore political science major founded Taara Projects – "taara" means "star" in Sanskrit – to encourage and help the workers sell their wares. Ramakrishna's grandparents already had a similar organization in Bangalore, India, Sahasra Deepika, or "1,000 Lights of Hope," that empowers underprivileged girls.
"They're like sisters and friends to me," Ramakrishna said of the girls from Sahasra Deepika. "They've taught me so, so much about the impact a circumstance can have on your life that's out of any of our control. The place you were born can really dictate your fate and is something we have no power over. We also want Taara to be a point of light in someone's life who needs it."
Taara has produced and sold nearly 70 pants through word-of-mouth as a sort of "beta testing" phase, according to Ramakrishna. It also partnered with a sustainable fashion brand in Chennai, India —Zy-lk— to produce a batch of Taara-designed pants, and have a finalized design that is scheduled to go live on Taara's website this month.
"Zy-lk is committed to sustainable fashion with an emphasis on upcycling," Ramakrishna said. "They have a sense of urgency that I appreciate to make as much impact as we can."
Zaina Niyaz, co-founder and creative head at Zy-lk, said the collaboration has been natural.
"As new labels, both brands have been built on the foundation of bringing conscious change in the fashion industry and together that is exactly what we intend to do," Niyaz said. "Sustainable practices applied in the production of Taara pants, such as cutting down water usage, no new dye discharge, manufacturing in small quantities, handpicking the trims that are used — are all contributors to the change that we would like to see being adopted by the fashion industry globally."
The Taara team, which also is a member of the Social Innovation Lab, grew through Johns Hopkins' chapter of Enactus, a nonprofit working with students to tackle sustainable development goals. Fatima Elzamzami, who heads social media outreach, and Chief Financial Officer Saisri Gussenhoven joined the Taara team through Enactus' recruitment efforts.
"In today's age a lot of people don't know the environmental impact they have and we're bringing awareness," Elzamzami said. "On a deeper level, it feels really good to be a part of something that actually will impact people's lives in a tangible way and doing so sustainably. That's the most rewarding thing."
The team is excited about growing the venture and expanding its efforts, especially in marketing. Michelle Tu, the company's director of public relations and marketing wants to collaborate with sustainability magazines and influencers, and Elzamzami says she's looked to other small sustainable brands for inspiration for audience building.
"Being a student without much experience, it's been a little scary running the social media pages for an actual business," Tu said. "I've had to brainstorm new ideas and try to see what works."
Ramakrishna says that through FastForward U, the team has found funding opportunities, as well as a network. The weekly Mastermind meetings from the FFU accelerator program provided technical insight and put names on what they were already trying to adopt such as price points, getting funds and business structures.
The team intends to reinvest the profits into infrastructure projects in the Indian communities where the artisans are employed.
"One thing that will be really empowering is that two or three years down the road, we can go visit the communities and actually see tangible effects," Gussenhoven said.
Ramakrishna is grateful the whole team believes in and is driven by a mission she started in high school.
"It's a big emotional reward to have these amazing young women with me on this journey," she said. "The movement is a slow process but is necessary in light of the current social environment. Just reforming the way you think about the items you use on a daily basis — even the shift in mindset is so important and I'm happy Taara can be a part of those choices people make."