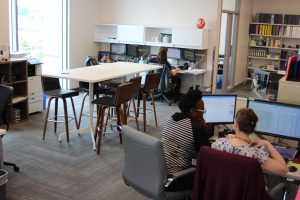 When Sysmex Inostics found itself needing a bigger laboratory and office space, it considered relocating from East Baltimore to less expensive space in Baltimore County, or to one of several former pharmaceutical labs elsewhere in Baltimore City.
Ultimately, however, the groundbreaking molecular diagnostics company decided to move across the street, from the John G. Rangos Sr. Life Sciences Building to the 1812 Ashland building, home of Johns Hopkins Technology Ventures and its startup incubator, FastForward.
"We kept coming back to Johns Hopkins because of the close network of people and the proximity to the hospital itself and the resources here," says Dan Edelstein, M.S., M.B.A., the company's vice president of commercial operations. "Not to mention, Sysmex Inostics was born out of Johns Hopkins in 2008, and some of our earliest adopters and closest advisers are nearby on campus."
Sysmex Inostics has signed a multiyear lease for the fifth-floor space near Johns Hopkins' East Baltimore campus, which will include larger lab and office spaces all custom-built by developer Forest City Science + Technology Group and by North Point Builders. The company's employees have been in the new space since the end of April.
"We had been primarily a clinical lab," Edelstein says. "The new space allows us to now have a larger office setting integrated with a much bigger lab. This is vital as we expand our clinical testing services into new areas with next-generation technologies."
Formerly called Inostics, the company pioneered the use of noninvasive liquid biopsies that allow for targeted cancer treatment plans and better tracking of disease status using circulating tumor DNA (ctDNA) as a biomarker. Ten years ago, it developed the first commercially available clinical assays for ctDNA, based on the BEAMing technology conceived in 2003 and clinically validated in the laboratory of Bert Vogelstein, M.D., and Ken Kinzler, Ph.D., co-directors of the Ludwig Institute for Cancer Research at Johns Hopkins. Over the past decade, BEAMing has demonstrated high levels of sensitivity and specificity for detecting and monitoring ctDNA across a wide range of cancer types.
Inostics was acquired in 2013 by Sysmex, a Japanese company specializing in hematology analysis, lab automation and integrated lab information systems. The acquisition helped Inostics commercialize its technology worldwide and standardize testing. Sysmex Inostics' BEAMing technology is now available outside of the United States as a kit that can be used in routine management of patients with advanced colorectal cancer. Both in the U.S. and abroad, the company provides disease focused liquid biopsy testing that can be used in both the clinical trial setting as well as in the clinic.
While liquid biopsies are becoming more commonplace, they have long been accepted at Johns Hopkins, Edelstein says, giving Sysmex Inostics more opportunities to test and refine its technology.
"When you go out to the rest of the world and talk about circulating tumor DNA, most people are asking, 'Does it match what's in the tissue?' Folks at Johns Hopkins, familiar with the concept of ctDNA for well over a decade, have moved beyond that," Edelstein says. "Investigators at Johns Hopkins incorporating circulating tumor DNA are comfortable with our technology approach since it has been extensively clinically validated across multiple tumor types, and they're thinking, 'How can we use this to truly improve patient care?'"
Such collaboration, and the ability of Sysmex Inostics employees to easily head over to Johns Hopkins for a lecture or a meeting, made staying at Johns Hopkins a simple decision, Edelstein adds.
"If you're in a lab and you're working on DNA specimens, you don't necessarily have a patient in mind," he says. "It just becomes a task. That's a very important part of being here at Johns Hopkins: maintaining that connection to patient care and the cutting-edge research and discovery that leads to significant leaps forward in our understanding of cancer."