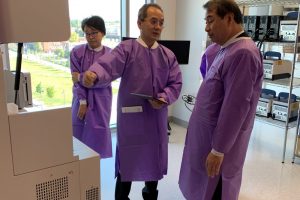 Executives from Sysmex Corp.'s global headquarters in Japan, including CEO Hisashi Ietsugu, met employees of subsidiary Sysmex Inostics and toured the company's new office and lab space in the 1812 Ashland building on Aug. 9.
"Stay hungry," Ietsugu told the Sysmex Inostics team in remarks thanking them for their hospitality.
Sysmex specializes in hematology analysis, lab automation and integrated lab information systems. It bought what was then known as Inostics in 2013. The molecular diagnosis company, a Johns Hopkins spinout, pioneered the use of noninvasive liquid biopsies that allow for targeted cancer treatment plans and better tracking of disease status using circulating tumor DNA (ctDNA) as a biomarker. The company was based at the John G. Rangos Sr. Life Sciences Building until this spring, when it started a multi-year lease for custom-built space in the 1812 Ashland building.
Following a ribbon-cutting at Sysmex Inostics' office, the Japanese delegation heard from several speakers, including Ken Kinzler, who helped develop the technology behind Sysmex Inostics' testing, and Christy Wyskiel, head of Johns Hopkins Technology Ventures.
During welcoming ceremonies, Dan Edelstein, Sysmex Inostics' vice president of commercial operations, colored in the eye of a Daruma doll, a symbol of good luck and perseverance in Japanese culture.