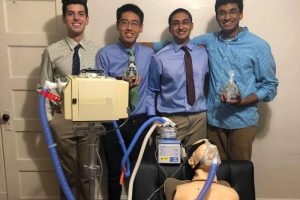 The following was originally published in The Hub.
A group of six third-year undergraduate students at Johns Hopkins University is on a mission to help combat the COVID-19 pandemic from their living rooms by designing leak-proof masks that can be used with ordinary CPAP machines to deliver breathing relief to hospitalized COVID-19 patients.
The students—Varahunan Mathiyalakan, Min Jae Kim, Ankur Govil, Joshua Ni, Adam Kenet, and Noah Sobel, who collectively represent the departments of Biomedical Engineering, Chemical and Biomolecular Engineering, and Biophysics—formed their team earlier this year when the United States faced a national shortage of ventilators to treat COVID-19 patients. They began researching ways of adapting devices used for non-invasive breathing relief, such as CPAP (continuous positive airway pressure) and BiPAP (bilevel positive airway pressure) machines, which are commonly used to prevent obstructive sleep apnea and other breathing difficulties. The team has been hard at work on their project since March.
"We knew that CPAP machines, which administer oxygen to patients through a mask over their nose and mouth, are widely available and non-invasive. The problem is that the masks often leak, so they have the potential to spread virus particles," said Mathiyalakan, a chemical and biomolecular engineering major. "This is the challenge we needed to overcome."
In keeping with social distancing guidelines, the team, named Team AirTight, has been creating designs, working on business initiatives, and completing paperwork remotely from all over the country. Prototyping is done at an off-campus house in Baltimore where several of the team members live.
"We set up a prototyping station in our living room, and sought to build connections and gain sponsorship from faculty members in the Department of Biomedical Engineering and the Department of Pulmonary and Critical Care Medicine to obtain the necessary equipment to conduct testing," said Kim, a biomedical engineering major.
Over the last five months, the team has designed more than 10 functional prototypes and developed unique testing protocols to verify mask efficacy. They plan to begin clinical testing at the Johns Hopkins Hospital soon. Team members plan to train hospital staff remotely to run their clinical test in order to adhere to COVID-related public health safety guidelines. The students have already completed pre-clinical paperwork and are close to submitting their Institutional Review Board proposal, an undertaking rarely led by undergraduate students.
"We will conduct preclinical testing of our prototype at the Johns Hopkins Simulation Center, which hosts an ICU and critical care module," said Kim. "As soon as we validate our solution at the Simulation Center, we will proceed with clinical testing once our IRB application is approved."
As a student-run research project, the team does not report to a principal investigator in a lab. Instead, while members receive advice from several engineering and clinical mentors, all of their progress, including prototyping and clinical testing efforts, have been coordinated by them as lead investigators.
"Pursuing this project has given us the chance to take on greater research responsibilities while also learning how to run and manage research experiences, which undergraduate students rarely get to do," said Mathiyalakan.