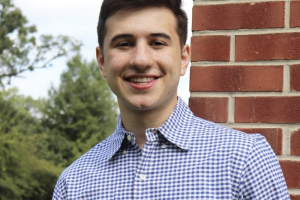 The following was written by Erica Avery, FastForward U's communications intern.
Two of the nine spring 2022 Fuel accelerator teams at FastForward U, Paths and Edansh, are focusing on the same topic — mentorship — but in very different ways.
The Fuel accelerator ran for nine weeks during the semester and is designed as a later-stage track for any type of venture to help them get to market and become investor-ready.
"As a longtime educator, it's always exciting to work with teams thinking about ways to improve experiential learning opportunities," said Josh Ambrose, director of student ventures, noting two other Fuel teams focused on edtech (Leaders of Africa and ClassEquity). "More and more emphasis is being placed on the pedagogical value of mentorship and networks, so it's good to see new projects continue to grow out of students' firsthand experiences."
For Alex Schachne, Paths is the second venture he has co-founded to provide networks to students for career exploration and life design. Schachne, a senior computer science major, created ImagineX in Fast Forward U's fall 2019 Spark accelerator, an events platform to help students hear from professionals. He ultimately licensed it to Johns Hopkins' "Future Fest," a multiday career event to help students navigate what panels or employers to go to.
"How much potential is lost when we have all these smart kids at Hopkins who don't have a direction or purpose or mission they're inspired by? That was the impetus," Schachne said.
Schachne said it's his life's "path" to help people find theirs, especially through Johns Hopkins alums sharing their stories. Looking for the right medium and having experience doing informational interviews, Schachne started Paths, where users submit one question for an expert to answer in an audio recording. He described the platform as "mentorship on demand" and also like Spotify, in that users can create playlists with specific mentors.
"I can go to someone's profile and send any question on my mind, so they get a message, and they can record a message, and instantly it's streamable to anyone," he said. "I'm experimenting with different ways to help people find content that's interesting to them, so they're getting recommendations based on subjects they like."
Fresh off being one of three teams awarded a $10,000 Summer Undergraduate Innovation and Entrepreneurship Challenge award from FastForward U, Schachne says he will keep working on life design and career exploration for students as long as it takes to have a meaningful impact.
"The people that struggle the most are people who need role models — people are flying blind," he said. "So how do you connect people to those who have relevant experiences in things they're interested in if they have no network? Having it be digital, online, asynchronous, on demand, it is much broader to the population than otherwise to listen to these nuggets of wisdom."
Born and raised in India, Himanshi Sharma, founder of Edansh and a master's student in the School of Education, hopes to create an edtech platform to directly connect Indian high school and college students with career mentors.
After completing a degree in the sciences at Florida International University in Miami and returning to India, where her father is a scientist, Sharma determined she would not be happy following in her father's footsteps. So, she reached out to former mentors in education, including teachers in India with whom she teamed up to form Edansh. (The "Ed" in "Edansh" is for "education." "Ansh" is a Hindi word for "portion" or "share.")
"I realized I should work toward my passion, which is education," she said. "I was fortunate enough to have mentors, but not enough people out there know what they want to do."
Edansh screens mentors for its platform who students can send a request to connect. Sharma says they wanted mentors to provide more personal information than what is commonly found in a LinkedIn profile, such as personal mantra or biggest failure. Sharma hopes Edansh can facilitate connection to eliminate the daunting process of approaching and finding mentors.
"Once you know options, you really want to talk to someone who has been there, done that," she said. "When it comes to some high school and college students, and they don't make a move because they think, 'Why would this person respond to me?'"
While there are career counselors in Indian schools, Sharma points out they won't be able to tell students what that career is actually like.
"Mentorship as a whole is not embraced in India— only 5% [of students] have access to services and there's over 350 million students," she said. "In America, mentorship is everywhere and is one of the basic services actually used."