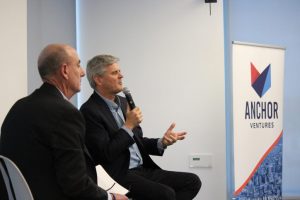 Nearly 200 people gathered at FastForward 1812 on February 15 as Steve Case, a co-founder of AOL and the chairman and CEO of Washington D.C. investment firm Revolution, discussed Baltimore's potential as a startup hub.
Case's fireside chat marked the kickoff of Anchor Ventures—a monthly series funded by TEDCO and run by Johns Hopkins Technology Ventures, and the University System of Maryland to facilitate valuable relationships among Maryland's innovators, entrepreneurs, investors and ecosystem builders.
The standing-room-only event marked Case's return to a FastForward innovation hub, having visited FastForward East as part of his 2015 Rise of the Rest bus tour, a nationwide effort to work closely with entrepreneurs in emerging startup ecosystems. TEDCO CEO George Davis interviewed Case, focusing on Baltimore's past, present and future as an innovation hotbed.
"I remember when I was here two and a half years ago. It was inspiring to see some of the momentum that was building," Case said to the crowd. "It's great to be back and to see how much progress has been made."
Though Baltimore's innovation ecosystem is maturing, Case sees strategic collaboration as a necessary catalyst for continued development. He says "hyperconnectivity" has helped Silicon Valley thrive and seems to be emerging in Baltimore through initiatives like Anchor Ventures.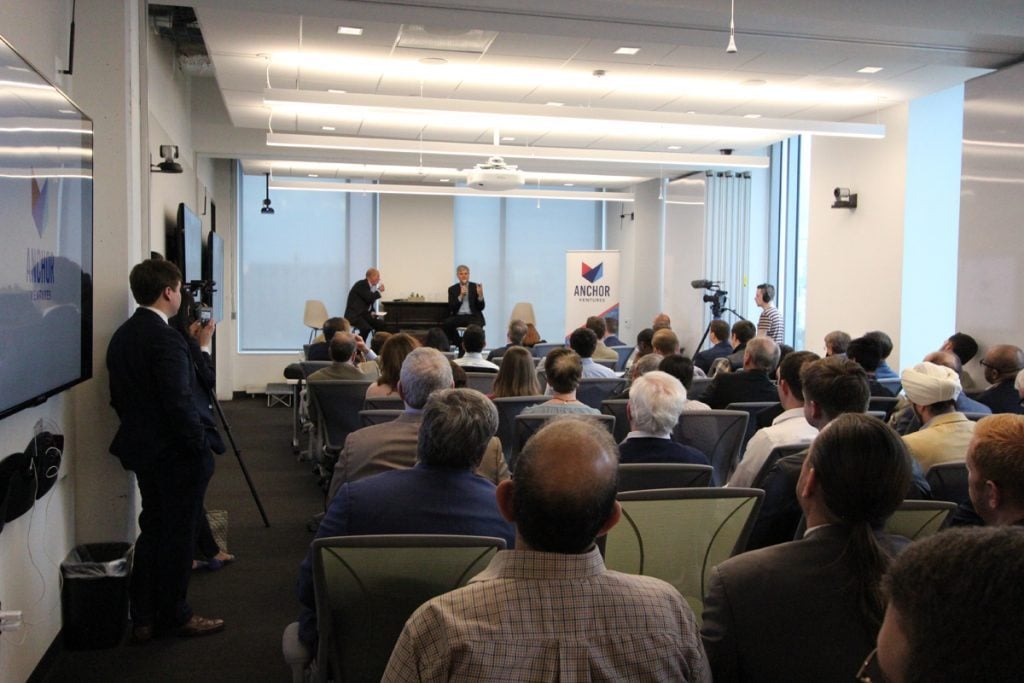 The next great startup ecosystem will rise, Case says, because communities, local governments, anchor institutions, investors, entrepreneurs and innovators adopt a Silicon Valley mindset in which disbelief is suspended and opportunities are identified.
"The only question is if the community is there to seize the moment," Case says.
Case used Detroit and Silicon Valley to illustrate his point. Seventy-five years ago, Detroit rode automobile manufacturing to become one of the hottest, most innovative cities in the country. As Motor City flourished, orchards covered the San Francisco Bay Area. "(Silicon Valley) wasn't growing startups, it was growing fruit," Case says. "Things can change."
While much of Baltimore has lamented Amazon's decision to exclude the city from its list of finalists for its second headquarters, Case sees opportunity in the city's wholehearted attempt. The city's anchor institutions, government agencies, entrepreneurs and others collaborated to submit a unified and strong proposal.
"How do you take that same framework and keep fighting?" Case asks. "While Amazon is a unique opportunity and fighting to bring it here it makes sense, the better strategy is creating an ecosystem that creates the next Amazon.
"I think Baltimore is extremely well positioned to rise in the coming years," Case says, acknowledging that many other cities across the nation are in similar positions.
The abundance of grit, inspiration and ingenuity found from Baltimore to Boise is the inspiration for creating Rise of the Rest, which identifies and invests in promising startups outside of Silicon Valley, New York and Massachusetts.
"(Rise of the Rest) shines a spotlight on great American cities with great histories and places that have great futures because of their startups," Case says. "There's momentum in each of these cities. There's hope in each of these cities. There's a recognition that there's more to be done."
Earlier this year, Case announced that his investment firm, Revolution, partnered with dozens of renowned investors like Amazon CEO Jeff Bezos to create a $150 million Rise of the Rest seed fund. On Valentine's Day, Revolution announced that nine startups from nine cities, including Baltimore's Catalyte, received the first investments from this fund.
"Over time, we believe that (Rise of the Rest) has the potential to help each of these cities rise to the next level," Case says.
Local perspectives
Joining Steve Case at the inaugural Anchor Ventures event was a group of Baltimore's innovation ecosystem builders. In a panel discussion moderated by JHTV's Christy Wyskiel, these builders shared signs of progress, words of encouragement and calls to action.
Deb Tillet of ETC
On Baltimore entrepreneurs' needs: "Access to the three C's: capital, connections, creativity. And now two other C's: craft beer and coffee."
On making connections: "In this city and this place and state, you are one degree of separation from anyone you need to know."
Richard May of Innovation Village
On comprehensive engagement and collaboration: "Baltimore can't win if we only put three players on an 11-player field."
Demian Costa of Sagamore Ventures
On Baltimore's many strengths: "We have to focus the energy we have in these different areas. We have to celebrate wins. Great things will come."
The Anchor Ventures series continues on March 15 at Columbus Center (701 E Pratt St, Baltimore, MD) with "Healing Hearts: Harpoon Medical's Solution Story." Save the date and visit the Anchor Ventures site or follow us on Twitter for more updates.