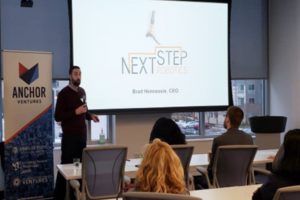 Kim Noonan spent a year in a lab testing the idea that T-cells from cancer patients could be re-educated and put back in the cells to kill tumors. But it was not until the clinical testing phase, when she met every patient and family during infusions, that she grasped the potential impact of her work.
"It's different when you have cells on a plate and when you meet someone who says, 'You will save my life,'" said Noonan, the founder and chief scientific officer of WindMIL Therapeutics.
Noonan was one of four startup founders who shared the personal story behind their businesses last week at "Passion to Profit: A Quick-Fire Showcase of Inspired Innovation" hosted by Anchor Ventures, the TEDCO-funded speaker series run by Johns Hopkins Technology Ventures, the University System of Maryland and the University of Maryland Baltimore.
The event was held at FastForward 1812, Johns Hopkins' downtown innovation hub, and attracted innovators, entrepreneurs, investors and ecosystem builders, who peppered the speakers with questions and networked.
Each speaker added a personal touch to the traditional business pitch. Brad Hennessie showed a picture of himself with his grandmother, whose stroke led him away from a career as a physical therapist to working with stroke patients at The Veterans Affairs Medical Center. Hennessie is now CEO of NextStep Robotics, a UMB spinoff using robotics to address foot drop, a condition that prevents 30 percent of stroke patients from lifting their toes while walking.
NextStep has created a six-week, customizable training plan for stroke patients, and 85 percent of patients in a small study reduced their dependence on or got rid of their orthotics altogether, said Hennessie, who added the company recently became eligible for Maryland's biotech tax credit.
For Jeff Leek, the problem he saw was just outside the Johns Hopkins Bloomberg School of Public Health, where he is a data scientist and professor in the Department of Biostatistics: The median household income of the neighborhood surrounding the school is less than $30,000, according to the U.S. Census Bureau.
"Can we develop a way for people who are talented to do better than this?" Leek asked.
His answer was Problem Forward, which offers on-demand data science work performed by trained East Baltimore residents. Leek and co-founder Jamie McGovern built a 12-course online program where the only prerequisite is being able to read and write at a 10th-grade level.
"We needed to rethink how this education could get into the right hands," said Leek, who noted data scientist is one of the most in-demand jobs across the country. Problem Forward has trained two East Baltimore residents so far and has funding to train 20 more, he added.
Samantha Scott offered the most personal story of the presenters: After being diagnosed with a rare neuromuscular disorder similar to multiple sclerosis, the biomedical scientist and engineer two years ago founded JuneBrain, which aims to offer home monitoring for MS patients.
JuneBrain is creating a wearable retina imaging system that collects data for a doctor, allowing for regular monitoring between visits to a neurologist's office. JuneBrain hopes to submit its device for FDA approval by the end of the year and launch the product by the end of 2020, she said.
"I see this as a first step to help patients with all types of neuromuscular diseases," said Scott, who described the device as a "Fitbit for the brain." "I want to be able to track my disease at home as easily as tracking your steps or your heartbeat."
For Noonan, of WindMIL Therapeutics, her work took another personal turn three years ago, when her mother was diagnosed with the metastatic cancer that would kill her a year later. The FastForward startup is in the midst of a Phase II trial among high-risk multiple myeloma patients and is looking to use its marrow infiltrating lymphocytes technology to next take on solid tumors and lung cancer.
And, Noonan proudly shared, the company's first patient, one with high-risk myeloma she saw during every infusion, is still alive 11 years later.
The next Anchor Ventures event is scheduled for March 14 and will look at how artificial intelligence technology is being applied across industries. For more information and to register, visit anchorventures.org.