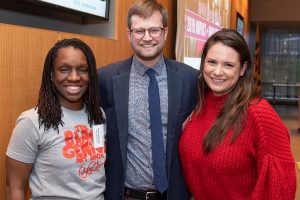 The Happy Teacher Revolution was awarded $15,000 and Fight Blight Bmore was awarded $10,000 during the Social Innovation Lab Impact+Innovation Forum on Tuesday night.
The announcements were the culmination of a six-month program for the 10 teams in this year's Social Innovation Lab (SIL) cohort and an emotional evening where each team pitched their project to an enthusiastic crowd of family, friends and fellow entrepreneurs at the Chevy Chase Bank Conference Center at The Johns Hopkins Hospital.
The winners were chosen through a secret ballot completed by cohort members plus five outside judges. The prizes were funded by a donation from The Abell Foundation.
The Happy Teacher Revolution is an international movement that aims to organize and conduct mental health and wellness support groups for teachers to increase their happiness, retention and professional sustainability.
Danna Thomas, the organization's founder, taught in Baltimore City schools for seven years and received her master's degree from the Johns Hopkins University School of Education.
"You are my family," Thomas said to her cohort members through tears after receiving the prize. "I am so inspired by everyone and am amazed at how much we have grown in the last six months."
Said Alex Riehm, director of the Social Innovation Lab: "Danna has shown herself to be a true leader of the cohort, sharing ideas and resources and her positive energy and enthusiasm to help us all make progress on our ventures."
Fight Blight Bmore is a campaign of people working together to cultivate safe, green, economically vibrant communities in Baltimore, according to its website. Founder Nneka N'namdi started the group based on her experience with community organizing and activism in her own neighborhood.
"Though I am a winner, I'm going to find ways to work with my SIL members to stretch the dollars," N'namdi said.
Said Riehm: "Nneka's work is more than a digital platform: It's a community action plan that helps our city mobilize for action we want to see in our neighborhoods."
Cohort members received funding, mentorship and office space through the program, as well as the opportunity to attend workshops that empower them to build stronger global communities.
Riehm, in his opening remarks Tuesday, noted the diversity of ideas of cohort members but said their work is interrelated.
"We can take care of one another," he said.
Eighty percent of the teams chosen for the 2018–2019 cohort are led by women and entrepreneurs from minority groups. Sixty percent of the teams include a Johns Hopkins University student or alum or a Johns Hopkins employee.
More than 100 teams applied for the 2018–2019 cohort, covering categories such as education, health and well-being, arts and culture and products and services. Applications for next year's cohort open in August.
SIL has previously supported 72 ventures, including Portable Alternative Crib Initiative, Urban Pastoral, Baltimore Teacher Supply Swap and ClearMask. The ventures combined have raised over $37 million in funding, hired 459 individuals in paid roles and made positive impacts in their communities.
The other 2018–2019 SIL teams are:
Ars Medica: A space where doctors and medical students can share their stories and support each other in their journey toward more humane and compassionate medicine.
Core team: Javier de la Maza, Marielle Bugayong, Taj Keshav and Jianyi Nie
Rose: A technology-driven mental health company simplifying the way patients experiencing stress, depression and anxiety seek and receive care.
Core Team: Kavi Misrilall
Baltimore Farm to Clinic Project: Provides healthy foods and nutrition education to vulnerable individuals living in underserved neighborhoods.
Core Team: Bailey Miles, Kate Rediger, Jon Shaw, Laura Harding-Fukushima, Joann Williams and Brian Adams
Baltimore Job Hunters Support Group: Assists older, long-term unemployed workers with the social, emotional and psychological pain that comes with mid-career job loss by providing counseling, coaching, information and referral services, outreach and advocacy.
Core Team: Janet Glover-Kerkvliet
Health 3D: A student-run social venture that creates customized, 3D-printed education equipment for children in hospitals.
Core team: Chris Shallal, Kirby Leo and Jody Mou
MOMCares: Provides postpartum doula support to black mothers navigating a NICU experience with their child.
Core Team: Ana Rodney
Roots & Raíces: A social enterprise geared toward creating a platform for immigrant artists and musicians to come together to support, highlight and celebrate immigrants through the arts and civic action.
Core Team: Valeria Fuentes, Abbey Parrish, Torianne Schiff, C Kim, Luz Orozco, Eean Logan, Ariel Foster and Adrianna Fuentes
Be. Virtual: A youth-built virtual reality technology for social-emotional learning.
Core team: Tonee Lawson