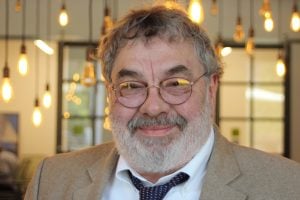 Skip Colvin was miserable.
It was March 2014, and Colvin, a serial entrepreneur and inventor with hundreds of U.S. and foreign patents in his name, had been diagnosed with cancer and ordered to remain home by his doctors during an aggressive treatment regimen.
So he decided to find a young entrepreneur he could advise. An online search led him to a Johns Hopkins professor's startup.
"I literally just sent a cold email to him," Colvin recalled recently. "The header on it was, 'Help offered.'"
So began Colvin's path to becoming a mentor-in-residence with Johns Hopkins Technology Ventures' FastForward program, offering advice and expertise to fledgling companies based on his 40 years in the life science and medical technology fields.
Each FastForward company is paired with one or more mentors operating under nondisclosure agreements. In addition to high-level advice, mentors offers practical help. Colvin, for example, once assisted a company on its rewrite of a patent application at the last minute.
FastForward mentors provided approximately 1,000 hours of their time to nearly 550 engagements last fiscal year.
"One of the things we're learning is the earlier we can put mentors with good prospects, the better," he says. "We try to head off big, company-killing mistakes that occur when they wander too far off on their own during the earliest stages."
Colvin, in turn, learns from each of his mentees and relives the thrill he got witnessing ideas go from concept to loading dock.
"I get to enjoy, almost perpetually, the joy of a startup, the thing I learned to love most in my very first job," says Colvin, 64, whose cancer is now in remission. "There's just an excitement, a swashbuckling experience that goes on."
That first job was 40 years ago with what eventually became Life Technologies Corporation, the Rockville-based biotech company. Colvin was the firm's eighth employee; he offered to help purify enzymes in exchange for assistance with graduate school tuition at Johns Hopkins.
As the company became more successful, however, Colvin found himself looking for a new challenge.
"I realized I had become spoiled to the startup," he says. "When I got my wish that the company became stable and wonderful, I was really bored."
He left Life Technologies and founded Cerex Inc., which designed control systems and sensors for bioreactors. Most recently, Colvin was the co-founder and chief scientist of Senseonics, which received FDA approval in July for the world's first implantable glucose sensor for people with diabetes.
"I've never considered myself an entrepreneur," he says. "I'm just doing what I like to do."
Colvin himself sought out his own mentors as he built his first company, finding experts in operations, marketing and law, among other areas, to both guide him and serve as a sounding board.
"There's a lot I had to learn by trial and error," he says. "I can save [my mentees] that kind of stuff."
While Colvin tailors his advice to his mentees, he makes sure all the entrepreneurs are fully committed to their ventures.
"Every mentee has their own individual fears. It's a scary business," he says. "Everyone's head is out of a foxhole when you're a startup. And a lot of people are uncomfortable with that."
Those who are not often find themselves spending hours talking with Colvin, often at his Mt. Airy home. One mentee, a Johns Hopkins surgeon, brought over full operating gear and put a mock surgical setup on Colvin's kitchen table to explain why his proposed solution is important.
"That's a wonderful experience," says Colvin, whose voice sometimes catches when he thinks about the mentor-mentee relationships he has built. "Each one of these mentees has a big engine running. It's fun to jump on board with them."
Five years ago, however, before he could have even imagined his role as a mentor, Colvin was waiting for a response to his unsolicited email. It arrived in the inbox of Al Celedon, the founder and CEO of Scanogen, a FastForward startup developing a point-of-care test for bloodstream infection detection in 30 minutes.
Celedon initially was suspicious of the email. But then he saw Colvin's resume.
"When you are first starting, you are looking for people with experience, who can shed light as to what's coming next," says Celedon.
They started to meet at Colvin's house for hours at a time, even as Colvin was going through chemotherapy. They talked about how to develop a company vision and how to be a CEO. Scanogen held a company picnic at Colvin's house.
Colvin urged Celedon to have a clear commercial plan, Celedon says, acknowledging that he was initially more focused on developing a technology than a product.
As important, Celedon says, is the confidence Colvin gave him "that, like him, I could be a successful inventor. That I could take the risk based on an invention, my invention. That's a big step."
"He was willing to invest in our relationship and bet on our relationship," he adds.
Celedon formally connected Colvin with FastForward and the Mentor-in-Residence Program. Colvin is now on Scanogen's advisory board, and Celedon says he still speaks with Colvin before making an important decision.
"He offered me more than technical advice," Celedon says. "He offered me friendship."