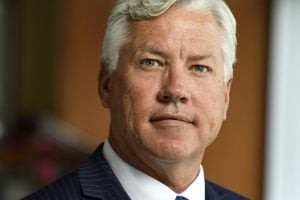 When people think of innovation at The Johns Hopkins University, technologies from the Whiting School of Engineering (Cardiac Patch), the school of medicine (InvisiShunt) and perhaps the Carey Business School (rBIO) may come to mind. But there's another school with a program consistently ranked No. 1 in the nation — the Johns Hopkins School of Nursing — where innovation is encouraged among faculty and students.
"Nurses have always been innovators," says Kenneth W. Dion, Ph.D., M.S.N., M.B.A., R.N., the school's assistant dean for business innovation and strategic relationships. "Who knows health care systems from the bedside to the boardroom better than nurses?"
Dion is an entrepreneur himself, having founded a cloud-based information systems company for health care organizations that was later acquired.
"Innovation is a vehicle for impact," he says. "Nurses get into the profession in the first place to make an impact, and JHTV can be a great partner for that."
Innovation at the school of nursing starts at the top with Dean Sarah Szanton, Ph.D., R.N., who developed the CAPABLE program to aid low-income seniors safely aging in place. And it extends to the students like Kelliann Wachrathit, Autumn Diggs and Shweta Gohil, fellows in Johns Hopkins Technology Ventures' Commercialization Academy, which provides full-time students with exposure to the fields of commercialization and entrepreneurship through a two-year paid fellowship. All three feel their nursing background not only gives them a unique perspective but also makes them more capable and poised to innovate.
Kelliann Wachrathit — Master's of Nursing student
An enduring interest in direct patient care led Wachrathit from a decade-long regulatory career in medical devices at the U.S. Food and Drug Administration to Johns Hopkins' M.S.N. program. Wachrathit, who has a bachelor's degree in bioengineering from the University of Maryland, learned the importance of a clinical point of view when leading teams making decisions about regulated medical devices
"The breadth of inventions at Johns Hopkins is astonishing and promising, and not always a tangible product," she says. "Clinical perspectives are imperative to understanding the realism of those unmet needs and informing the development and management process to ensure the idea can make maximum impact."
Wachrathit is a senior fellow in the Commercialization Academy overseeing eight student fellows. After graduation, she would like to develop and improve medical products. To Wachrathit, innovation in nursing means "taking a patient and health care professional-centered approach to solving problems in health care."
Autumn Diggs — Master's of Nursing student
Participation in research in the cognitive and brain sciences departments while an undergraduate at Dartmouth helped Diggs develop skills to research the technologies that come through the JHTV office. But it was a desire to work directly with people and understand their background and health care needs that drew her to nursing. Growing up in rural Virginia, Diggs witnessed firsthand how the lack of access to technology can leave some populations behind when it comes to receiving health care. This viewpoint is instrumental in the way she thinks about technology in her role as both a fellow and a future nurse
"When evaluating scientific nuances of the technologies and pharmaceuticals, I gain a deep understanding of the disparities that have elicited the need for such inventions," she says.
Diggs is interested in pursuing a career as a nurse practitioner and business owner, and credits her time in the Commercialization Academy with exposing her to the ways health care providers can drive change beyond the walls of a hospital or clinic to impact and improve patient care. To Diggs, innovation in nursing means "formalizing the actions, ideas and solutions that nurses come up with every day."
Shweta Gohil — Doctor of Nursing Practice student
Gohil joined the Commercialization Academy from the Doctor of Nursing Practice (DNP) program at Johns Hopkins and brings with her an M.S.N. and clinical experience in pediatric intensive care and oncology. She also has a master's in public health from Rutgers University and carried out health systems and policy research on high-risk youth in California. Her interest in the Commercialization Academy stemmed from her desire to think of the problems she saw in her previous careers in a more strategic manner.
Gohil recently was hired as a senior analyst with Health Advances, a health care consultancy in San Francisco, where she will work as a consultant for the biopharma, medtech, digital health and diagnostics industries. To her, innovation in nursing is "evidence-based, which connects medicine and people together to create useful and helpful products."