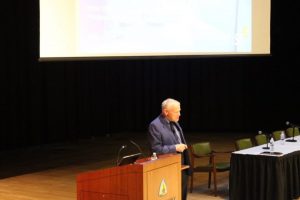 Health care of the future is individualized and based on wellness, not population-informed and based on disease, according to legendary biologist Leroy Hood.
While 20th-century health care's mantra was "find it, fix it," 21st-century health care should be built on "P4 medicine" — predictive, preventive, personalized and participatory treatment, Hood said during his keynote speech at the Johns Hopkins Department of Medicine and Whiting School of Engineering's annual research retreat March 1 at Turner Auditorium.
"Wellness is key to optimizing health and understanding chronic diseases in the future," he said.
Now chief science officer at Providence Health & Services, one of the country's largest nonprofit health care systems, Hood co-founded the Institute for Systems Biology, a nonprofit biomedical research organization that promotes cross-disciplinary work and a holistic approach to solving health problems.
Hood, who helped sequence the human genome, said that in the future a person's genes will help determine a treatment plan.
"In 10 years, we'll be able to identify disease transitions for most diseases, allowing for the early reversal of chronic diseases" or even preventing diseases from even forming, he said. Hood predicted that, in five years, doctors will be able to reverse 80 percent of early-stage Alzheimer's cases.
The individualized nature of health care also will mean that drug trials "will be aggregators of N=1 studies," focused on how a single patient reacts to treatment, Hood said. Similarly, clinicians will instruct patients on aging with tailored guidance.
The theme of this year's research retreat, for which nearly 500 people registered, was "Thinking Big: Systems Biology to Precision Medicine." Now in its third year, the retreat seeks to facilitate collaboration across the engineering and medical disciplines. It included an overview of 3D printing and prosthetics that the Johns Hopkins Department of Art as Applied to Medicine is creating, and a panel discussion on the importance of cross-disciplinary coordination to solve health problems.
Gregory Hager, founding director of the Johns Hopkins Malone Center for Engineering in Healthcare, which gives "an engineer's eye to medicine," said the center is examining the high rates of failure in spinal and sinus surgeries by reviewing thousands of scans to learn why some procedures are unsuccessful. Researchers also are developing a quantitative way to measure the success of sinus surgery — since none exists — before evaluating procedures.
Chirag Parikh, director of the Division of Nephrology, noted that two engineers from the Johns Hopkins Applied Physics Laboratory spent a week in a dialysis unit and came back with 50 suggestions for improvement.
"Data scientists and data engineers need to be part of the problem-solving process," he said.
In addition to the speakers, more than 100 teams of researchers took part in poster sessions at the retreat, and this year's design projects from the Center for Bioengineering Innovation & Design were exhibited.
Christy Wyskiel, head of Johns Hopkins Technology Ventures (JHTV), explained JHTV's role in the lab-to-market process and shone light on several interdisciplinary research collaborations that have resulted in high-impact commercial success stories.
JHTV also had a vendor booth as part of the all-day event.