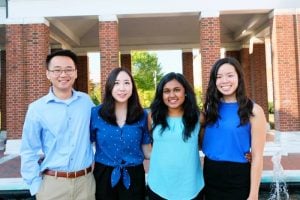 The following was written by Erica Avery, FastForward U's communications intern.
Almost 10% of Americans living with kidney failure use peritoneal dialysis (PD), during which the blood is cleaned inside the body instead of being taken out first. The internal cleaning is done with a solution administered via catheter through the lining of the abdomen. While PD has been found to give patients a better quality of life, because patients administer the dialysis to themselves, there is a higher risk of contamination of the tube ends during setup.
Enter the PeritoneX, a medical device designed to reduce touch contamination by disinfecting potentially contaminated PD connection points after connections have been made but before the initiation of dialysis treatment. The PeritoneX was created by Relavo, a student startup founded three years ago as an undergraduate biomedical engineering class project.
"[Infection] seemed like a relatively simple problem that no one has solved yet," said Sarah Lee, one of Relavo's founders. "I was curious as to why this hadn't been addressed, and was attracted to it because it has the potential for a huge clinical impact."
The PeritoneX's potential has garnered attention beyond Johns Hopkins — Relavo was awarded $500,000 earlier this summer as a winner of the KidneyX prize and has been accepted to both the MedTech Innovator accelerator and the MassChallenge Boston Accelerator. The startup also won FastForward U's Fuel Accelerator Demo Day in the spring.
"It shows a lot of dedication in my team," Lee said of all the accolades. "It says a lot about how passionate we are in our project."
Relavo previously received translational funding via Johns Hopkins from the Ralph S. O'Connor Undergraduate Entrepreneurship Fund, the JHU Summer Undergraduate Entrepreneurship Fund and the Thalheimer Graduate Student Award.
Relavo used the $15,000 Demo Day prize to pursue a licensing agreement with Johns Hopkins Technology Ventures for its patent. The startup also has been introduced to new contacts and mentors through FastForward U, including Barbara White, a former dialysis patient who asked to work with Relavo after hearing about its technology.
"I can honestly say that they are one of the most prepared and polished teams I have worked with," said White, founder of The Avoka Group, who consults with Fortune 500 companies. "When I started working with them, they had already proven their concept, developed a strong business plan, established a credible set of clinical advisers, and could articulate their path forward with clear milestones. It has not surprised me at all that they have been so successful in competitions and gaining support from various sources."
Lee leads Relavo while pursuing a master's degree in engineering, a career path that was not obvious when she started at Johns Hopkins.
"I was always interested in STEM, but I didn't have a clear idea of what I wanted to do as a career, "Lee said. "So I took a leap of faith, and once I got involved, I started looking into more technical classes."
Tejasvi Desai, Relavo's co-founder, attributes much of the team's success to Lee setting an example as a leader.
"Sarah is incredibly passionate and driven, which propels our success," Desai said. "Her leadership, organization and planning set the tone for the rest of the team. She is also receptive to feedback, and I am grateful to work alongside such a welcoming CEO and friend."
Lee said the biggest lesson she has learned since starting Relavo was how to say "no."
"I learned how to prioritize myself and learned not to say yes to everything," Lee said. "Learning that has improved how I approach a project and makes sure I don't overload myself."
The COVID-19 pandemic has created unprecedented challenges for many businesses, but Lee said Relavo has adapted as best as possible.
"I think we have been able to make fairly significant progress," Lee said. "The COVID pandemic has also increased community recognition of the importance of home dialysis, which has inspired us to work even harder."