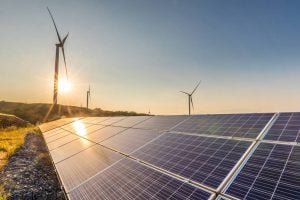 The following was originally published in The Hub.
With a $20 million gift from the estate of trustee emeritus and alumnus Ralph S. O'Connor, the Johns Hopkins University and its Whiting School of Engineering today announced the establishment of the Ralph S. O'Connor Sustainable Energy Institute (ROSEI) to serve as the university's interdisciplinary home for ongoing research and education aimed at creating clean, renewable, and sustainable energy technologies.
This ambitious and wide-ranging effort—dedicated to helping chart a new energy future and addressing the driving forces of global climate change—is built on the O'Connor gift as the catalyst of a new $75 million, 10-year total investment by the Whiting School and the university in energy related research and education.
ROSEI will educate future energy leaders and support implementation, markets, and polices that promote an affordable and equitable green energy future for a more resilient world.
"Hopkins has never shied away from tackling enormous, complex societal problems—and this is one such challenge," says Ben Schafer, the Willard and Lillian Hackerman Professor of Civil and Systems Engineering and the institute's founding director.
"With researchers from across the university collaborating and addressing these issues holistically, we can have a huge impact on advances in energy-related research and in informing policy that ensures the benefits of our work will be enjoyed by all."
Adds Becky O'Connor, Ralph's wife: "I am so pleased to see the O'Connor name associated with this important research center. Ralph never stopped being a student. He was always seeking challenges and always in search of new ideas. This institute will help take on some of the biggest issues of our time, and I know Ralph would be thrilled to help support that work."
The institute's activities will focus on three primary themes:
Renewable energy:

 

Renewable energy is the key to making the most immediate impact on greenhouse gas emissions and meeting our energy needs. Today, solar and wind installations account for 11% of energy consumption in the U.S. Aligned with emerging national priorities, the institute aims to enable a future where, by 2050, 100% of energy for electricity will come from renewable sources. This will require intensive research efforts and advances in knowledge, as well as overcoming challenges in production, storage, transmission, and distribution across scales never before attempted.
Stewardship in fuel technologies:

 

The immediacy of climate change, the level of destruction it causes, and the scale of our energy needs require us to move beyond reliance on today's technologies to seek far bolder, more ambitious—even radical—solutions. Instead of being the source of damaging greenhouse gases, fuel and combustion products can become a chemical platform to capture carbon and repurpose it to create new materials for buildings, agriculture, and transportation. This requires novel solutions and novel methods for translating the results quickly to the world.
Affordable and equitable implementation:

 

The institute can only fulfill its mission if the technological advances it helps generate can be translated into meaningful change and implementable solutions. Thus, its research will be integrated with a focus on policy solutions, regulations, market incentives, outreach programs, and partnerships with energy policymakers, industry, public utilities, federal agencies, and national labs. These efforts will support turning the innovations coming from Hopkins labs into implementable, affordable solutions that benefit the world.
In addition to Schafer, the institute is initiating with six core faculty and 26 additional affiliated faculty members, including scholars from the Whiting School, Krieger School of Arts and Sciences, Bloomberg School of Public Health, School of Advanced International Studies, and Applied Physics Laboratory.
"This effort has the potential to be a game-changer in terms of advancing energy research and policy," says Ed Schlesinger is, the Whiting School's Benjamin T. Rome Dean, "But I know we'll realize other benefits, too, such as attracting top faculty members and the most talented graduate students, expanding our academic offerings and student research opportunities, and providing targeted direct funding for energy-themed research."
Ralph O'Connor was born in Pasadena, California, in 1926 and graduated from Johns Hopkins in 1951 with a bachelor's degree in biology. O'Connor was an entrepreneur, civic leader, and philanthropist. He was a trustee emeritus of the university and a dedicated supporter of Johns Hopkins, giving generously over several decades in support of financial aid, endowed faculty chairs, athletics, art, awards for undergraduate entrepreneurs, and the Homewood campus recreation center that bears his name. O'Connor died in 2018 at age 92.