A mentor, friend and so much more, R. Keith Baker passed away suddenly in 2013, but those at Johns Hopkins Technology Ventures who knew him carry their beloved colleague's memory and feel his inspiration every day.
In 2017, JHTV ensured that Baker's legacy would endure through the R. Keith Baker Award, an honor bestowed upon current JHTV employees who embody the namesake's admirable values and qualities: scientific curiosity, strong mentorship capability, altruism, calming influence, resolute perseverance and dedication to Johns Hopkins.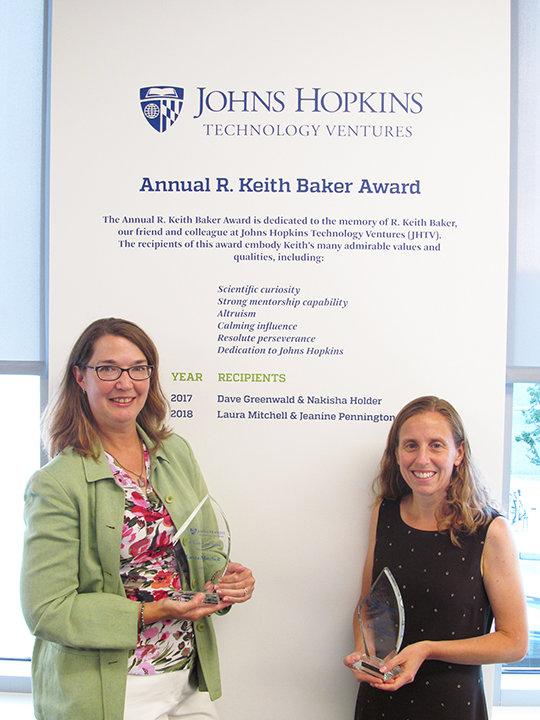 This year two members of JHTV were chosen to receive the annual award – Laura Mitchell, JHTV's senior intellectual property manager, and Jeanine Pennington, director of JHTV's therapeutics portfolio.
Laura, who has worked at JHTV for a decade, uses her experience with the U.S. Patent and Trademark Office and background in molecular and cell biology to understand the value and market probability for the complex technologies she encounters every day. Laura was described by colleagues as a positive force who is curious and supportive of faculty inventions, but also able to gently push faculty to continue developing and improving their ideas when necessary.
Jeanine has been with JHTV for 5 years and specializes in the commercialization of oncology and immuno-oncology technologies. Prior to Hopkins, she worked in licensing at Texas A&M University where she managed a large portfolio of life science and biomedical research innovation. Jeanine's colleagues call her a major asset who understands the science and cares deeply about cures for patients.
Baker, who earned a Ph.D. in biochemistry from Wake Forest University and MBA from St. Joseph's University, began working at Johns Hopkins in 2000 and eventually became the senior director of licensing for Johns Hopkins' Office of Technology Transfer.
"Everyone looked up to Keith," says Helen Montag, JHTV's senior director of business development and corporate partnerships. "He was smart, quiet and dedicated leader."
Visitors to JHTV's headquarters in the 1812 Ashland building in East Baltimore are greeted by a remembrance of Baker, which includes a description of the award given in his honor and a list of R. Keith Baker Award recipients.