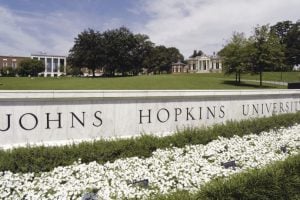 Timothy Ruchti described the Johns Hopkins biomedical engineering graduate students he advised in the yearlong precision care medicine (PCM) course as "ambitious, bright and innovative." He met virtually or in person with his team every Wednesday during the semesters, and they continue to stay in touch as they prepare to publish their findings on predicting hypoxemia among intensive care unit patients.
"It was interesting to see this diverse group of students coalesce," said Ruchti. "They took an idea and transformed it into a productive model."
Ruchti is not a Johns Hopkins faculty member or clinician, however. He is director of algorithms at Nihon Kohden USLab, a medical monitoring equipment maker that is the first corporate partner for the PCM course.
"We see it as an investment in the future of health care," said Harsh Dharwad, president and CEO of Nihon Kohden USLab.
It all began with Dharwad's chance meeting at an industry conference with Seth Zonies, Johns Hopkins Technology Ventures' director of corporate partnerships for the Whiting School of Engineering. The two got to talking about the future of health care, which led to Dharwad visiting Johns Hopkins and later inviting Raimond Winslow, director of the Johns Hopkins Institute for Computational Medicine, to speak on a panel on the future of digital health care.
"I really believe in (Winslow's) vision of what he's after in his precision medicine program," Dharwad said.
Winslow envisions medicine "becoming an engineering discipline."
"Physicians will always be the tip of the spear treating patients," he said. "But increasingly their decisions are going to be informed by algorithms that are either running in real time or behind the scenes. I think medical education is going to have to change to reflect this inevitable transformation."
To that end, Winslow devised the PCM course, where students are divided into small teams that select and analyze data to address a critical care problem described by their advisers.
"The Nihon Kohden-JHU relationship is a great example of when the vision of our faculty and the vision of our partner are perfectly aligned, and we have a mechanism to roll up our sleeves and actually work together on something concrete," said Zonies. "The field of predictive analytics is just starting to pick up speed, so we anticipate lots more partnering opportunities to be coming soon."
The PCM course team supported by Nihon Kohden used artificial intelligence to build a real-time predictive algorithm for alerting ICU clinicians about patients who are most likely to experience hypoxemia, or low level of oxygen in the blood. (All the students on the team signed over licensing rights to their work to Nihon Kohden.)
"They showed it was possible to predict future hypoxemia based upon clinical data," Ruchti said of his students. "Now, we have to make it work in the clinical setting where it can actually impact quality of patient care."
Dharwad, who spoke to the entire PCM class during the school year, described the hypoxemia work as "statistically relevant but not quite production ready."
"But that's part of the learning process," he added. "What challenges are you facing, and how do you solve them?"
Both Winslow and Dharwad said they want the two sides to collaborate again in the fall for the next PCM course, which Winslow said would not be affected by all classes moving exclusively online. Winslow also sees the potential for a relationship that goes beyond coursework.
"We can build algorithms well. They can build hardware and the related data infrastructures well, and they already have these integrated into hospital systems," he said. "So our marriage would be very nice."
Added Dharwad: "Nihon Kohden has developed the data and processing infrastructure that can utilize these algorithms in real time within the clinical setting to provide additional value."
Should Nihon Kohden take part in another PCM course, the company will not have to look far for an adviser.
"There's a great satisfaction every mentor has on impacting the student experience," said Ruchti. "My aim is to support clinicians through data-driven applications that improve patient outcomes. I see Johns Hopkins precision medicine courses bringing together clinicians, engineers and data scientists for the exact type of applications we would like to provide to our customers."