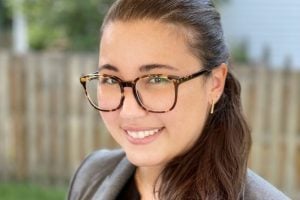 FastForward startups seeking funding guidance now have a new but familiar person helping them. Nicole Snell has been named assistant director of ventures after two years as alliance manager for investment partnerships and translational funding.
Startup companies founded at Johns Hopkins are coming off a record year, having raised more than $1 billion in funding in fiscal year 2021.
"I want to keep the momentum that has been created and see continued growth," says Snell. "A lot of the work coming out of Johns Hopkins is transformative. It's really pushing barriers and new ways of thinking."
Snell's background has provided her a window into the lab and the boardroom. Overseeing translational funding winners has given her extended time with very early commercial opportunities to learn what they need to succeed, she says. And Snell's doctorate in molecular medicine has enabled her to speak researchers' language while determining a technology's commercial viability.
"What I'm trying to do is understand what the venture is looking for and what we have that aligns within the university and making those connections, as well as supporting the startups that are more established in their efforts to fundraise," she says.
Brian Stansky, senior director of FastForward, notes that faculty members who receive translational funding ask Snell for advice and guidance even after their grant money is gone.
"The ventures position is a natural progression where Nicole's extensive knowledge of Johns Hopkins University technologies and faculty members enables her to make connections that are timely and fit specific investor interests," he says. "Our translational funds span the entire spectrum of JHU technologies, which has given Nicole experience in areas beyond her educational background in life sciences."
Snell says she plans to have venture capital firms and investors back on campus to meet researchers and hear pitches as soon as it is safe. She and the FastForward team also will continue to encourage faculty members and startups to seek funding through grant programs such as the Maryland Innovation Initiative and the Maryland Stem Cell Research Fund, as well as Johns Hopkins Technology Ventures' three translational funds.
Click here to learn more about FastForward's startup funding resources.