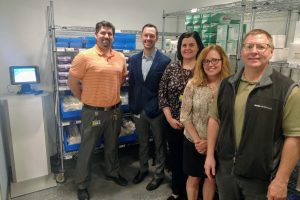 FastForward lab tenants looking for basic supplies no longer have to wait for a delivery.
The Fisher Scientific Stockroom opened earlier this month on the garden level of the 1812 Ashland building, part of Johns Hopkins' innovation hub on the East Baltimore campus.
Tenants log into a kiosk to scan and purchase gloves, tips, pipets, syringes and wipers, among other consumables.
"It's a quick and easy process," says Amy Kramer, senior director of academic and biotech business development for Thermo Fisher Scientific.
The supplies are packaged with a startup in mind: while petri dishes are typically sold in quantities of 500, for example, the stockroom has a sleeve of 20 for sale.
"It's a real advantage for folks who have very little space," says Kramer.
Thermo Fisher Scientific, one of FastForward's corporate sponsors, will monitor supply levels in the stockroom and can adjust inventory based on tenants' needs.
Mark VanderZyl, senior operations manager for FastForward, said the stockroom is a boon to startups housed at one of FastForward's nearly 50 labs and lab benches.
"The Fisher team did extensive work surveying all of our lab tenants to find out what products would be most beneficial to have on hand," he says. "We will constantly monitor and adjust the inventory to adapt to the changing needs of our tenants or to accommodate new startups when they move in."