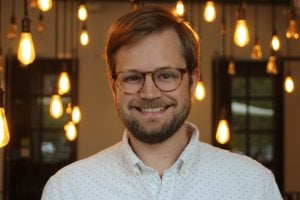 Since 2011, the Social Innovation Lab (SIL) has supported 72 mission-driven ventures that have impacted a quarter million lives. The reach of this program and the opportunity to work hands-on with talented social entrepreneurs drew Alex Riehm to SIL, where he assumed the role of director in November.
After earning a master's degree in international affairs from The George Washington University in 2010, Riehm oversaw 65 social enterprises, nonprofits and university initiatives as a portfolio manager for USAID's Development Innovation Ventures fund. Many of the ventures he supported operated overseas, so while they often grew and benefited society, the physical distance made it difficult to build strong personal connections.
"My priority was to find an opportunity where I could have direct and supportive relationships with changemakers," Riehm says. "Connections like these enable me to better understand the individual social entrepreneurs, their motivations and what they hope to achieve. Ultimately, this means I can provide better support and make a greater impact."
Darius Graham, who served as SIL director for nearly four years before transitioning to a new role in Johns Hopkins Technology Ventures as director of student ventures, cited Riehm's experience, vision and desire to build personal relationships as key traits that will help him succeed in leading SIL.
"Alex stood out because he already knows what it takes to grow emerging ventures and how programs like the Social Innovation Lab can help ventures avoid common roadblocks," Graham says. "Given his experience, Alex is poised to refine the Social Innovation Lab's model of helping ventures set and meet critical milestones that accelerate their work and help them make a measurable impact."
Riehm's first order of business: ensuring that the 10 ventures in the 2017-2018 cohort experienced the sense of support, camaraderie and shared experience that SIL intends to cultivate. He has already crossed this off his to-do list.
"I wanted to prioritize building a mutually supportive cohort, but I was lucky to find that Darius had already created this culture," Riehm says, noting that this year's 10 SIL teams have had dinners and other get-togethers. "This year's SIL cohort is flexible, they know what they want to achieve and are willing to iterate their approaches to get there. This creativity and nimbleness is exactly what programs like the Social Innovation Lab need."
With a supportive environment in place, Riehm has shifted his focus to identifying and consolidating the resources and opportunities available to social entrepreneurs from myriad local and regional sources.
"I want the Social Innovation Lab to be a greater part of the city's conversation about social innovation," Riehm says. "I hope to use Johns Hopkins' resources to connect smart teams to good work and vice versa. There's a lot we can do to add to each other's work."
Riehm moved to Baltimore from Washington, D.C. only three years ago, but he happily calls this city home. He is particularly enamored and inspired by the creativity and commitment to impact that drives the city's social entrepreneurship scene.
"Baltimore is a city where people devote generations of time and energy," Riehm says. "It seems like the people I've met have five projects going on and work for two nonprofits. People invest a lot of themselves in building something here.
"This city feels like my home. I'm looking forward to investing my time and energy here, too."

Click here to learn more about the Social Innovation Lab!