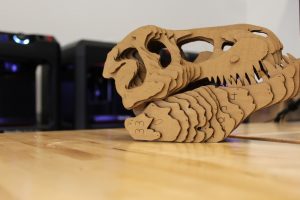 FastForward U is getting a new neighbor.
The Johns Hopkins University Makerspace will open Jan. 22 at FastForward U's home in Remington near the Homewood campus. The 2,000-square-foot Makerspace features 3D printers, laser cutters and rooms fully equipped for metalworking and woodworking.
The space is managed by the Whiting School of Engineering and is open to all Johns Hopkins students and faculty and staff members. Priority for using the space is given to personal projects unrelated to coursework. (Projects for coursework or research are also supported by WSE Manufacturing, located in the Wyman Park Building.)
"Johns Hopkins students, across all divisions and disciplines, are inventors, problem solvers, tinkerers and makers," says Ed Schlesinger, dean of the Whiting School of Engineering. He says the Makerspace "gives all Johns Hopkins students access to the space, tools and training they need to give form to their ideas, to build and to transform their innovations into products that can change the world."
Having the Makerspace within FastForward U is important "because it will help people make connections between hardware and software that might not otherwise have been made," adds Kerrie Carden, director of student ventures. "It will also allow individuals with differing approaches to problem solving to combine forces to make something that may be greater than what they could have created on their own."
Users must take a general training course before being able to access the Makerspace, and additional training courses are available for specific pieces of equipment. The main space is accessible 24/7, while certain areas, including the metalworking and woodworking rooms, are only available during staffed hours Monday through Friday.
Tools in the Makerspace were provided by Stanley Black & Decker.
For more information or to schedule a training session, visit makerspace.jhu.edu.