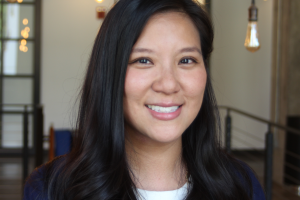 Kelliann Wachrathit-Kub, M.S.N., was a regulator at the U.S. Food and Drug Administration (FDA) in 2018 when she attended a session organized by the agency and FastForward, the incubator program of Johns Hopkins Technology Ventures (JHTV). She was fascinated by the work FastForward did with startup companies and by seeing the "other side" of the commercialization process.
"In the back of my mind, I said, 'This is a great organization. If I go to Hopkins, I'm going to look for them,'" she recalls.
Four years later, Wachrathit-Kub is a graduate of the Johns Hopkins University School of Nursing and FastForward's newest mentor-in-residence, following a stint at JHTV's Commercialization Academy, where she learned about technology transfer and mentored student startups.
"We're excited about the many ways that Kelliann can help demystify the regulatory process and prepare our entrepreneurs for that important step in their commercialization journey," says Mark VanderZyl, FastForward's associate director for startup advancement, who oversees the mentor-in-residence program.
During her 10 years at the FDA, Wachrathit-Kub first conducted research on neural implants and then was a regulator for neurological and physical medicine devices. She also coordinated analyses of medical device safety issues.
The biggest misconception startups have about the FDA, Wachrathit-Kub says, is that the federal agency is not willing to work with businesses and that it "stops innovation." In fact, the regulatory process includes constant communication between both sides, which is why Wachrathit-Kub encourages startups to start the approval process with the FDA as early as possible to work through regulatory approaches and avert potential issues. Sometimes, regulatory questions and delays in the review process are due to simple inconsistencies, like data from the wrong study or varying descriptions of the device, she says.
The interdisciplinary work at the FDA exposed Wachrathit-Kub to the nuances of patient populations and the benefits and risks of innovative technologies. Since she always enjoyed the "bio side" of her undergraduate degree in bioengineering, Wachrathit-Kub decided to transition to health care to work with people and gain a better understanding of the clinical and patient perspectives. In her first semester at the Johns Hopkins nursing school, she saw a flyer for a session about JHTV's Commercialization Academy. "It was a great opportunity to learn about those early-stage challenges that come before the FDA, like licensing and patents," she says.
While at the Commercialization Academy, she offered to share her regulatory experience, which led her to mentor student startups at FastForward U.
"It was really amazing to hear their ideas and support them in their pursuits to make them a reality," she says. "They've been great to work with and have always been really open to the advice I was giving. I liked the challenge of helping them work through their regulatory questions."
Josh Ambrose, FastForward U's director of student ventures, says Wachrathit-Kub provided "thorough, thoughtful and valuable advice" to startups working on fertility monitoring devices and new kinds of surgical needles, among other projects.
"I've been tremendously impressed with her ability to suggest next steps for students and to help point them toward further resources," he says. "We've lucked out in getting her in our ecosystem."
Wachrathit-Kub will start working later this year as a registered nurse in the intensive care unit at Medstar Washington Hospital Center in Washington, D.C. Her training has made her a better communicator, she says, and she hopes what she is learning in a clinical setting can help her to offer additional perspective to mentees as they consider device design, patient populations using the device and potential unmet clinical needs. She also hopes her medical innovation experience will influence her clinical practice and help expand the nursing profession's impact.
Click here for information about all of FastForward's mentors-in-residence or to schedule an appointment with any of them.