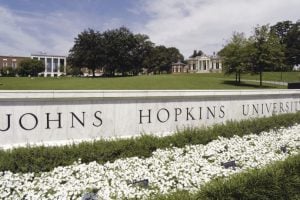 Five Johns Hopkins startups, including two started by students, received inaugural Microsoft Innovation Acceleration awards to advance their businesses that are using data science and artificial intelligence (AI) technology to address societal problems. This award is open to any startup that is part of FastForward, Johns Hopkins University's program for entrepreneurs.
Each of the winning teams will work with Microsoft Azure architects and developers and receive admission to Microsoft for Startups, a program that includes up to $120,000 in Azure credits, Microsoft Office 365 licenses, commercialization support and a co-selling readiness consultation. The startups also receive grants of $25,000 to the nonstudent teams and $5,000 each to the student teams.
Teams also receive a year of free co-working space in FastForward innovation hubs.
Johns Hopkins Technology Ventures reviewed applications and selected the winners from a pool of 21 applicant teams.
"We had a strong group of applications from students, faculty and startups all using AI, machine learning or data science to tackle pressing issues in society," says Mark VanderZyl, senior operations manager for FastForward, who oversaw the application process. "We have great teams in the initial cohort using technology to improve patient outcomes, control the spread of diseases and potentially save lives."
Said Toni Townes-Whitley, president, U.S. Regulated Industries, Microsoft Corp.: "Johns Hopkins has a track record of generating innovations from medical research that can be transformative. At Microsoft, our mission is to empower every person and organization on the planet to achieve more. In this case, we're focused on helping accelerate the practical applications of work being conducted by Hopkins students and researchers, which has the potential to make a significant difference in the lives of the organization's patients."
The Microsoft Innovation Acceleration Award grant recipients are:
Oncospace, which wants to revolutionize radiation oncology with the power of big data. The company is building an AI-based platform to help doctors personalize each person's treatment, minimize side effects and maintain quality of life.
Renalert, which seeks to prevent needless deaths due to acute kidney injury (AKI), an ailment associated with more deaths each year than prostate cancer, breast cancer, diabetes and heart failure combined. The company is developing the real-time monitoring Renalert System to provide continuous feedback on kidney status.
VecTech, which is developing new tools to fight mosquito-borne diseases. The startup's vector surveillance technology provides real-time mosquito population data to mosquito abatement districts to enable targeted control strategies of mosquito populations capable of disease transmission.
The Microsoft Student Acceleration Grant recipients are:
Graff Golf
The team: Aaron Shapiro (KSAS '22), Mike Eberle (WSE '20) and Patrick Kelly (WSE '20)
The pitch: A smart golf ball and mobile app experience that enables the amateur golfer to play, analyze and improve in ways previously only available to professionals.
Cellular Analysis Technologies
The team: Christian Gonzalez (WSE '21), Robert Waxman (WSE '21), Yihong Sun (KSAS/WSE '22), Jacob Feitelberg (WSE '22) and Marc Bordui (WSE '21)
The pitch: Using advanced computer vision and deep learning techniques to automate cellular analysis in research laboratories.
"As the technology around AI and data science continues to develop, there are more opportunities for startups to utilize them in order to solve market needs," says Kevin Carter, student program manager for FastForward U. "Thanks to this grant and technical support from Microsoft, these two ventures are in a prime position to bring their technologies closer to market."