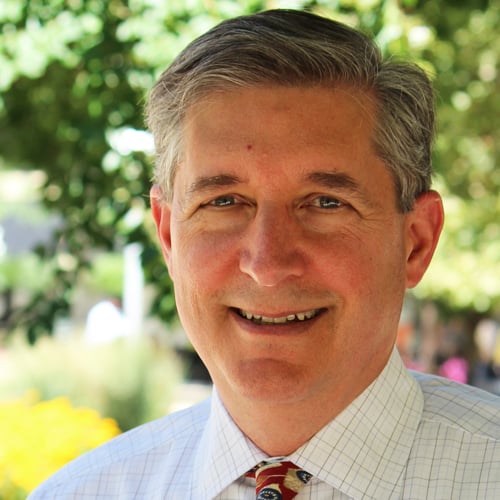 Steve Kousouris is no stranger to Johns Hopkins Technology Ventures. As JHTV's Senior Director of Finance and Administration, he's overseen finance and operations over the last five years as our commercialization efforts at JHTV have blossomed. As Steve has taken on a new role as Interim Executive Director of Tech Transfer, he says he is excited to see JHTV grow in even bigger ways.
Below, the native Marylander talks JHTV, growing Baltimore and leading about 40 staff members to new heights for Tech Transfer.
I understand you have a background in the health care and finance space? How has that helped you in your roles at JHTV?
My previous role as the senior director is basically like being the CFO for JHTV. Finance skills are translatable across businesses. As we've transitioned Tech Ventures from where it was when I joined—just the tech transfer—and expanded our FastForward startup assistance capabilities and the Corporate Partnerships group, those skills from my time in health care have become even more applicable.
During my health care career, I'd done a lot of merger and acquisition work, including the acquisition of startup companies and extensive work selling to pharma. I have experience in two areas where we're trying to grow.
Do you have any specific goals or anything you'd like to see implemented?
Our job is to commercialize the inventions of Hopkins, mostly from faculty. We get 500 invention disclosures a year and do 170 licenses a year. Over time we've built up quite an inventory of unlicensed technologies. While we're continually terminating technologies that aren't valuable anymore, we still have a large inventory that is potentially licensable. One of things we will be focusing on is how to better prioritize and focus our licensing efforts on the inventions of highest value.
This year we will focus on prioritizing inventions and working hard to get them out, faculty relationships, licensee compliance and improving surveillance.
How do you define value?
Value to the university is measured by the potential income we receive through licensing. Value is also determined by how well our technology addresses a problem and the impact of that problem on society.
On the personal side, are you a Marylander?
Yes. I grew up in Baltimore and was in fact born at Johns Hopkins Hospital. I grew up near the Homewood campus in Waverly and now live in Carroll County.
What do you like to do for fun? Tell me about your hobbies.
I play golf—not all that well—and I like to travel a little bit.
Where is the most interesting place you've traveled?
One of the things I've found most interesting was on a trip to Italy when we took a tour under the Vatican. They've found and excavated a necropolis under St. Peter's Basilica.
What do you like about Baltimore?
My family has a small business in produce delivery and I grew up driving trucks and know the city quite well. My Greek grandparents came here in 1904 and we have deep roots in Baltimore. I like that the city is a large enough city, but it's got that small-town flavor with its ethnic communities. It's so much more vibrant today than it was 30 years ago in terms of opportunity for restaurants, entertainment and innovation.
What makes it a good place to innovate?
There's huge opportunity here. We have the university generating great technology and a lot of startup activity happening here, but there isn't a large company that's going to use that technology here yet. In terms of the Baltimore skyline, there's a great opportunity to attract those companies into town as our startups are growing and getting to the point where they'll be large companies themselves. I'm looking forward to seeing Baltimore move in that direction.