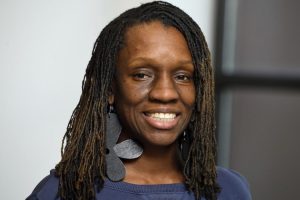 Nneka N'namdi was outside her home in Baltimore's Upton neighborhood on Mother's Day weekend 2016 when she almost witnessed a "tragedy." Children were riding bikes on the sidewalk of Fremont Street, next to four row homes being demolished. No barrier existed to prevent the children from falling into the 6-foot-deep, debris-filled holes.
It was in that moment the self-described "technoartivist" decided to tackle one of Baltimore's biggest problems: the many dilapidated, unsafe and vacant properties throughout the city. N'namdi founded Fight Blight Bmore (FBB), which is developing a smartphone app through which Baltimore residents can report blighted properties.
N'namdi describes FBB as a "social, economic and environmental justice initiative" based on neighborhood data. She wants to use technology, art and activism to engage people about the impact of blight: FBB's motto is "A blighted Baltimore is a bleeding Baltimore."
A graduate of Baltimore Polytechnic Institute and Morgan State University, N'namdi is director of community wellness at The Living Well, where she curates community space for artistic, economic and social ventures. She also is a co-creator of SisterGather, which holds events for women of African descent.
With FBB's membership in the 2018–19 Social Innovation Lab cohort, N'namdi is using the year to design the app and tailor it to customer needs. Meanwhile, she also is practicing what FBB preaches by developing two formerly blighted properties in her neighborhood.
In five words, what does your organization do?
Inform, support, advocate, report and account.
What are your goals and how will you get there?
I want Baltimore to be free of blight, especially concentrations of it. I also want development in the city to happen without displacing or disenfranchising existing populations. And real estate ownership across classes to reflect the city demographics.
We will reach these goals by providing data, information and a tool for the community to enable and mobilize its visions.
Why did you choose Baltimore as your startup's home?
I chose Baltimore because it is ground zero for restorative justice for African-descended people in America.
What opportunities make it a good place for growing a business or organization?
Baltimore has a few organic and authentic spaces that support growing a business or organization. For example, The Living Well has a Center for Social and Economic Vibrancy where artists, innovators and healers can launch their ventures. It provides spaces, technical assistance and access to a variety of support services, including photography, grant administration and strategic planning. It's been the support of The Living Well that has pushed FBB this far.
In terms of startups and innovation, what's one (positive) thing that separates Baltimore from other innovation hotbeds?
Baltimore is a city of many colleges and universities, which creates and supports a culture of idea generation and curation.
If you could give your past self one piece of advice for creating a startup, what would it be?
I would tell myself to find partners for the business from day one.
What book are you currently reading?
"The Ghosts of Johns Hopkins." How ironic!
What innovator do you look up to? Why?
I look up to Stephanie "Safi" Edwards because of the visionary way she used hair design and fashion to heal the hearts and minds of #BaltimoreGirls. She created a nuanced expression of black womanhood and girlhood in Baltimore through art that created safe space for black women and girls to unpack and address racial, gender-based, sexual and economic trauma. Her work is humanity in its highest form!
It's after a long day of work, and you don't feel like cooking. What is your go-to Baltimore restaurant?
I have a few favorites: Terra Café, Land of Kush, Flight and Teavolve. I also keep Healthy People Juice and City Weeds' micro greens in my fridge at all times.
What's your favorite non-work-related thing to do in Baltimore?
My favorite thing to do in Baltimore is to shop in the emerging and growing business owned by black Baltimoreans.
***
Follow Fight Blight Bmore on Facebook, Twitter and Instagram. The organization, along with the other members of the 2018–19 Social Innovation Lab cohort, will present its work at the Impact + Innovation Forum 2019 on April 30. Click here for more information and to RSVP.