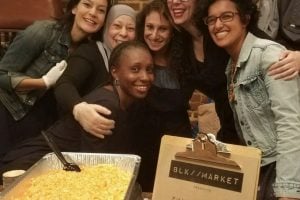 From 2000 to 2014, Baltimore saw its immigrant population more than double, reaching 45,000 (approximately 7 percent of the city's population). This influx of foreign arrivals led the Brookings Institution's Metropolitan Policy Program to call Baltimore a "reemerging gateway."
Easing the transition for many of these refugees and immigrants is Mera Kitchen Collective. As a community-driven, food-based cooperative, Mera Kitchen Collective amplifies the skills and passions of Baltimore's immigrants and refugees as well as ensures that that population has access to critical resources and opportunities.
To further the mission, Mera Kitchen Collective, a member of the Social Innovation Lab's 2017-2018 cohort, hosts pop-up events at local restaurants and farmers' markets and leads cooking classes to showcase the story and cuisine of different chefs who have come to Baltimore from places around the world.
Below, the founders of Mera Kitchen Collective (Emily Lerman, Brittany DeNovellis, Liliane Makole, Megan Murray, Iman Alshehab and Aishah AlFadhalah) share their thoughts about the cooperative's mission, Baltimore and the best food in the city.
In a few words, what does Mera Kitchen Collective do?
We operate a worker-owned cooperative supporting refugees and immigrants.
What are your goals and how will you get there?
Our goal is to provide opportunities for entrepreneurism to refugee and immigrant women. We have been hosting pop-up events to test our business model, skills and capacity. We hope to be present at farmers' markets for the upcoming season. Our end goal is a brick and mortar location that will serve not just as a restaurant, but also a community gathering place.
Why have you chosen Baltimore as your startup's home?
We love Baltimore! We are all Baltimore City residents, and we know a supportive, welcoming and talented pool of fellow-entrepreneurs live here. Of course we would choose Baltimore!
What opportunities make Baltimore a good place to grow a business?
The supportive small business community here in Baltimore has welcomed us with open arms. The city's residents have consistently supported our events and our women. It's the community in Baltimore that makes it special – we all came from other places and now call Baltimore home, so we know that this city is unique in its ability to provide support.
In terms of startups and innovation, what's one thing that separates Baltimore from other tech hotbeds?
Baltimore's concentration of top-level higher education paired with its size make it ideal for starting something innovative. Startups here have the resources of some of the country's best colleges and universities, their faculty and their students…combined with a city that's big enough to be impressive, but not so big that you can't make waves with your idea. Baltimore is really ideal!
If you could give your past selves one piece of advice for creating a startup, what would it be?
Connect more. We have been so lucky in the group that we have and the unique experiences and connections that we each bring to the table. These not only help us along the way, but they also inform so many of our decisions as a group.
What innovator do you look up to? Why?
We look up to other worker-owners and worker-owned cooperatives. The fine folks at the Baltimore Roundtable for Economic Democracy (BRED) and Red Emma's have worked with us to help us form our business model and help us refine our decision making as a group. We look up to these groups because they have actively chosen equity; we admire those who put people first.
It's after a long day of work. Where do you choose to eat dinner?
It's so hard to choose among so many A+ options! We might grab a bite at Hersh's in Federal Hill, or head to Clavel for incredible tacos…or Iman might have us over to her house and cook us a homemade meal. We are spoiled in our options!
What's your favorite non-work-related thing to do in Baltimore?
​Each one of us had a different answer to this question. For some of us, the answer is spending time at Baltimore's incredible museums; others of us love Baltimore's innovative food scene. There's so much love about Baltimore that it's hard to choose just one thing among six unique people.

Meet the Social Innovation Lab's other changemakers!