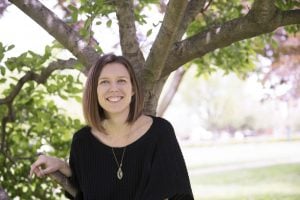 Within hours of the birth of Jenny Owens' son Maximus in 2016, the newborn (now 2) was diagnosed with a rare health condition that required extensive care, surgeries and time in the hospital.
Owens, a University of Maryland, Baltimore faculty member and director of The Grid, lived near The Johns Hopkins Hospital, which allowed the family to travel easily to and from home. It was there that Owens realized other families were not so lucky.
"When we were staying at the hospital for one of Max's surgeries, I ran into a grandmother of an infant patient in the family lounge," says Owens. "During our conversation, she shared that she was visiting for two weeks and staying at a hotel. Her son and daughter were living in a tiny hospital room at the Children's Hospital until either the Children's House or Ronald McDonald's house had an open room. They were from Tennessee and had traveled all the way to Baltimore for specialists that could care for their babies' rare condition. Right then I realized how incredibly lucky we were to be in Baltimore and so close to such amazing hospitals. I thought about it and wondered – what if people living near hospitals could volunteer rooms in their homes to traveling with loved ones for care?"
The rest —as they say— is history.
Owens started Hosts for Humanity as part of the 2017-2018 Social Innovation Lab cohort to help fill the financial, emotional and supportive needs of families traveling for care. The nonprofit now connects families and friends of patients traveling to Baltimore to receive medical care with volunteer hosts who provide accommodations in their own homes.
"We believe no family should be stressed about housing when they have a baby in the NICU, a grandparent having surgery, or a best friend undergoing chemo," says Owens.
Below, she discusses Hosts for Humanity, Baltimore and the goals she has for the nonprofit.
In 5 words, what does your company do?
Support families through collective compassion.
What are your goals and how will you get there?
We believe no family should be stressed about housing when they have a baby in the NICU, a grandparent having surgery or a best friend undergoing chemo. We are currently piloting the service in Baltimore and are raising money to build a more sophisticated web platform that will match vetted hosts with vetted guests in a secure environment.
This will help Hosts for Humanity scale and serve other regions where patients are traveling to receive care.
Why have you chosen Baltimore as your startup's home?
Growing up my father was in the Navy and we moved 14 times before I was in eighth grade. Although those moves made me a versatile person and are the foundation of who I am today, I never experienced a strong sense of community or togetherness.
I've chosen Baltimore as a place to raise my family, and be part of a groundswell of people who are committed to making Baltimore a great place to live, work and play for all.
What opportunities make it a good place for growing a business?
Baltimore is a place where people genuinely care. It's large enough to provide a host of resources for start-ups, and small enough for people to remember your name.
In terms of startups and innovation, what's one thing that separates Baltimore from other tech hotbeds?
Baltimore is the best-kept secret of the nation's innovation scene. It consistently ranks among the 20 hottest cities for tech and top three cities for women in technology. Maryland as a whole was ranked third in Fast Company's list of innovative states, and fourth in the number of startups per million residents.
There are more than 38 entrepreneurial support groups and co-working spaces throughout the city and a host of venture, angel and grant opportunities for startups. Baltimore is a city of makers, doers, creators and problem solvers and where I chose to grow and launch my start-up.
Baltimore is a city that faces great challenges but also a place where there are many opportunities to make a difference and to serve.
If you could give your past self one piece of advice for creating a startup, what would it be?
My advice to past Jenny would be when faced with adding something to your life it's either a "hell yes" or a "no." Focus your effort on what brings you joy and meaning. Forget or automate the rest.
What book are you currently reading?
"Evicted: Poverty and Profit in the American City" by Matthew Desmond
"100 Years of Solitude" by Gabriel García Márquez
"Life 3.0 – Being Human in the Age of Artificial Intelligence" by Max Tegmark
What innovator do you look up to? Why?
I admire Dr. Leana Wen, Baltimore city's health commissioner. Dr. Wen is a health care visionary, and I'm completely in awe of her energy and commitment to reducing health inequities in Baltimore. She's my public health hero.
It's after a long day of work, and you don't feel like cooking. What is your go-to Baltimore restaurant?
There are so many! Ekiben in Fell's is my new favorite, especially their catfish tackle box and tempura broccoli. Also love Mount Vernon Marketplace, Trinacria, and all vendors in Belvedere Square.
What's your favorite non-work-related thing to do in Baltimore?
As a new parent I'm seeing a whole new side of Baltimore. I love spending time with my husband and toddler on trails and parks in the city. I'm a big fan of the Maryland Science Center, the National Aquarium and the Rawlings Conservatory. I enjoy happy hours and brunches with friends and aspire to one day be a member of Baltimore's Pottery Guild where I take intermittent classes and am a novice at best.

Find out more about the Social Innovation Lab here.