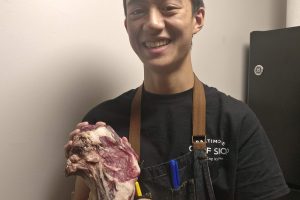 Jesse Wu has turned his love of cooking into a burgeoning business venture. Wu, a sophomore biomedical engineering major, is the chef behind Jade, a kitchen pop-up specializing in Chinese American cuisine.
Wu has been hosting fixed-price dinners inside classmates' apartments but steadily gaining attention outside the Homewood campus. His cooking made him the $1,000 "Crowd Choice Winner" last month during FastForward U's Demo Day for student ventures. And he will cook for his largest audience yet May 28 through June 2 as Jade takes over The Pop-Up stall at R. House, a kitchen that hosts new chefs for a limited time at the food hall in Baltimore's Remington neighborhood.
In five words or less, describe Jade.
Chinese college kid makes food.
When did you first get interested in cooking?
From a very young age, I loved the food that my parents and my brother made me. I really enjoyed cooking throughout high school, but it was mainly just for fun. When I got to college, I was finally able to explore that hobby in-depth because my parents were not around to make my food every day. I didn't see it quite as "I have to cook for myself now," but rather "every day I have the opportunity to try something new and learn."
Why did you start cooking for your friends at Johns Hopkins?
It started as me just cooking meals daily for my roommate. It was a great way to learn how to cook fast. I hosted dinner parties with lots of friends to share a meal and catch up between all our busy schedules. Then I decided to take it to the next level with multicourse dinners for friends in my dorm at Homewood Apartments. I started experimenting with Chinese American food executed with traditionally Western methods and equipment.
Why was it important to you to get ServSafe certified?
It's not super important for casually cooking for friends, but once you are cooking for crowds an order of magnitude larger, you want to make sure you don't make anyone sick. Food is one of the highest liability industries; I am asking strangers to put items I prepared in their bodies, and that is a huge responsibility.
My favorite dish to cook is mapo tofu. It incorporates such a diverse selection of Chinese cooking concepts, and it serves as good practice. It's also delicious and something I always got at Chinese restaurants when I was a kid.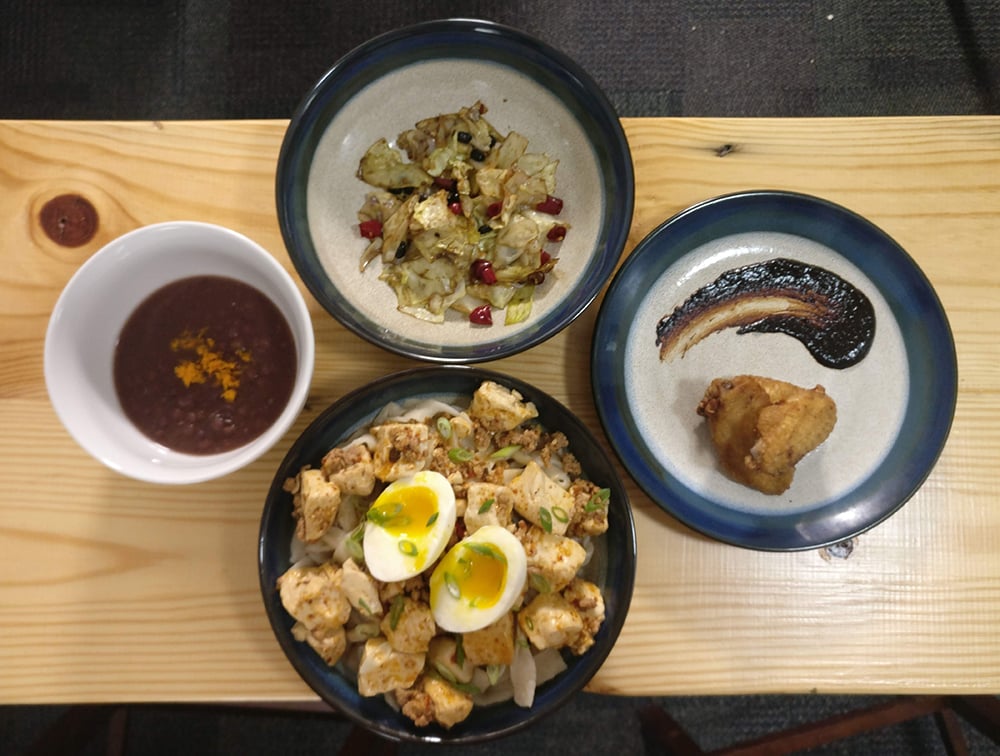 Where do you see Jade by the time you graduate?
I hope to keep on doing these pop-ups, sharing my story and representing my culture in Baltimorean cuisine. As I get the ball rolling and spend more time working in restaurants, I'll be able to make cooler stuff with a greater level of execution. First, though, I want to put my best foot forward. The more I do, the faster I learn and the more I'll be able to do it right.
Hopefully, I'll have enough of a stake in this city for friends, consumers and medical schools to want to keep me here, because I love Baltimore.
How has FastForward U helped Jade?
I have been funded with two separate Spark Grants, including the Demo Day prize. Many of the purchases from the first grant were to get the dorm dinners off the ground, but the second one will be key in making R. House (which is an enormous step in scaling up) a success. I have also received very useful advice from the team about FastForward U about the administrative aspects of running a business.
What's one piece of advice you would give a student who is thinking about forming a startup?
If you don't love it, then don't do it. I only do this because I love food and cooking. It would absolutely destroy me if I didn't.
Do you have any special plans for the pop-up?
There are exciting things in the works. Follow @projectjade_ on Instagram!
What are you most looking forward to during your week at R. House?
I look forward to cooking food that I think tastes good and sharing it with the public for the first time. Obviously, with something of this caliber, it is harder to get a message across, but I hope some walk away either thinking something I made was cool or with a new insight on my Chinese American experience.
I'm excited to feed Baltimore!
If you're not cooking, where do you like to go eat in Baltimore?
I spend a ridiculously large amount of time at Fadensonnen. Lane Harlan's relatively recent project sees some of the most interesting people in the city come through. I've been at least five times within the last few months just for the Masarap pop-ups!