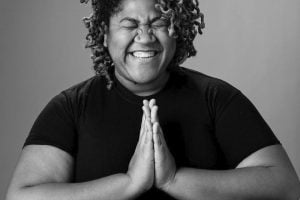 Ana Rodney has been a doula for 11 years, and describes witnessing her first childbirth as a magical and life-changing experience. But it was the premature birth of her own son, Aiden, almost five years ago that led to another life-changing experience.
Rodney felt helpless at times as a new mom in the neonatal intensive care unit (NICU), too tired and preoccupied to communicate what she needed. It was only after Aiden came home six months later that she began to realize exactly how much support she needed, both emotional and physical caring for a newborn with special medical needs.
Rodney began a healing circle for mothers in 2016, which delivered Mother's Day gift bags to 40 women at various NICUs around Baltimore one year later. She then used a Baltimore Corps Elevation Award to develop programming for mothers in the NICU, and ultimately founded MOMCares, a postpartum doula program designed to support mothers of color in the NICU. The organization provides packaged meals, transportation, bedside support and childcare for older siblings.
Rodney has used her time in the 2018–19 Social Innovation Lab cohort to intensively research and test the effectiveness of MOMCares' initiatives, with the aim to improve the organization's service to the community.
Describe, in a few words, what does your organization do?
Provide postpartum care to NICU moms.
What would you consider success for MOMCares, and how would the world be different if MOMCares is successful?
MOMCares will be successful when we have an impact on fetal and maternal health outcomes for black mothers and babies. I would consider MOMCares successful when we are training medical professionals and community workers in compassionate and culturally sensitive care.
When MOMCares is a national and international voice for the health and positive outcomes of black birthing families, then we are successful. Once MOMCares has done its job so thoroughly that there is no need for MOMCares to continue programming the way we are now, then we are successful.
What advice do you have for would-be social entrepreneurs or other students thinking about starting a venture?
Be prepared for the level of work that it will take to make your ideas manifest, and then prepare yourself to commit deeper and work harder than that. Stay consistent and patient, and take time to iron out the little things as you move toward the big things. Stay as organized as possible. Accept help as much as possible, and keep a list of things that others can help you with. Don't keep the vision all in your head; you have to be able to share it with others in order for it to grow.
If you could give your past self a piece of advice for creating a startup, what would it be?
I would tell myself not to be caught up with how quickly others are throwing businesses and projects together. Rapid rises usually mean rapid falls.
What book are you currently reading?
Trauma Stewardship: An Everyday Guide to Caring for Self While Caring for Others, by Laura van Dernoot Lipsky
What innovator do you look up to? Why?
I look up to my mother and the moms I work for. Who is a better innovator than the one who can make you feel like magic with just a hug and a treat? Black mothers, in particular, have always had to rely on innovation in order to survive and thrive in a country that has rarely been kind to us. Making things work despite the circumstances is what mothers do. I was raised by innovators. They surround me still.
What opportunities make Baltimore a good place for growing a business or organization?
Baltimore is a diverse city that has plenty of problems to solve and an array of consumers with infinite needs and desires.
In terms of startups and innovation, what's one (positive) thing that separates Baltimore from other innovation hotbeds?
Baltimore's location on the East Coast makes it a hub for different people to meet and mingle with different ideas. Baltimore seems to attract people from all over, which leads to an ever-refreshing market of people to test ideas and products on.
It's after a long day of work, and you don't feel like cooking. What is your go-to Baltimore restaurant?
It depends. If there is no way I am going back outside, my son and I will be munching on pizza from Michaelangelo's in Mt. Vernon. If I can muster up the energy to get outside, we would probably end up at R. House in Remington.
What is your favorite thing to do in Baltimore that is not work-related?
Walking to the Falls Road farmers market on Sunday mornings, getting food for the week and trucking it back home to start cooking. (So we don't end up eating pizza all week!)
Follow MOMCares on Facebook, Twitter, Instagram and WordPress. The organization, along with the other members of the 2018–19 Social Innovation Lab cohort, will present its work at the Impact + Innovation Forum 2019 on April 30. Click here for more information and to RSVP.