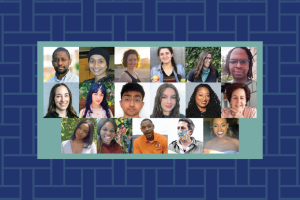 Revitalizing a piece of Baltimore's history, ensuring equitable access to feminine hygiene products and helping people embrace movement and mindfulness to address trauma or wellness are just some of the ways the teams of the Social Innovation Lab's 2021–22 Accelerator cohort aim to tackle problems within their communities.
The ten teams kicked off their cohort Nov. 13 with an orientation and introductory workshop centered around the importance of integrating human-centered design in problem-solving and validating their company value propositions.
Over the next six months, the teams will learn about customer discovery, storytelling, financial literacy and good governance through hands-on workshops and trainings in a hybrid format. Each venture will receive $1,000 with the opportunity to take advantage of a reimbursable grant of up to $5,000 through a Johns Hopkins I-Corps Site Grant. The teams will receive access to business support through SIL's adviser and alumni network, technical assistance through FastForward and training from a mix of industry leaders in public, private and social sectors.
The program culminates in April with SIL's Accelerator Showcase, where teams pitch their ventures to other social entrepreneurs, investors, friends and family with a chance to win $25,000 in funding.
"By offering an improved, in-depth curricula involving more simulations and one-on-ones with entrepreneurs to learn how concepts can apply directly to their business, we are activating our community of advisers, alumni ecosystem partners and supporters to ensure these entrepreneurs are well-prepared for beyond the program," says Madison Marks, SIL's director. "Our goal is for these entrepreneurs to leave feeling as if they have achieved their goals or at least have a road map for how they are possible. Impact starts with a plan and progress, and we are helping this cohort on the road to changing lives, neighborhoods and systems."
SIL received 44 applications for the newest cohort, a process open to Baltimore-area residents and Johns Hopkins University students, faculty and staff members seeking support for their social venture. Five applicants had applied for previous cohorts and were not admitted. Of those, four were accepted into the newest cohort.
SIL's accelerator has supported 103 ventures overall, of which 60% remain operational. Three-quarters of the active ventures are based in Baltimore. SIL teams have raised $78 million in total funding through philanthropic and venture investment, and the active ventures provide full-time employment to almost 300 people. SIL also runs skills-based "bootcamps" through which almost 600 people have received short-term support for idea-stage social ventures.
More than half of this year's cohort has no prior affiliation with Johns Hopkins. Seventy percent of the teams are led by founders of color, and 80% of the teams are co-led by female entrepreneurs. This year's teams are:
Team: Tyde-Courtney Edwards
Ballet After Dark uses a trauma-informed, dance therapy curriculum and holistic resources to encourage survivors of sexual violence and various levels of trauma to heal their bodies using movement.
Team: Kimberly Haven
BOOB'R works to challenge and erase the stigma for individuals who want to breastfeed while incarcerated, advocate for change within the prison system and establish lactation support for mothers behind bars.
Team: Levar Mullen and Matthew Holden Warren
Carlton St. Equine Center leads gun violence interruption efforts and administers post-violence trauma care through horsemanship led by the Arabbers, Baltimore's indigenous horse and wagon produce vendors.
Team: Adeola Ajani and Chidera Egbuche
Fem Equity is a membership-based platform that strives to make pay equity a reality for women of color by providing the tools and support and inspiring the confidence they need to make empowered decisions for career success and financial security.
Glass Recovery and Sustainable Systems (GRASS) Baltimore LLC
Team: Dante Swinton
GRASS Baltimore is a zero waste cooperative that maximizes the value of glass by turning it into artwork and reselling bottles to local breweries. GRASS also will be a space for learning about zero waste, and offer space for local and traveling artists to sell or perform their work.
Team: Kasey Armstrong and Samantha Novak
Loam is a social design and facilitation practice that empowers purpose-driven people and organizations to create agency and aliveness where they work, learn, and lead.
Team: Nicole Harris-Stokes
The Puzzling Disorder Project is an outgrowth of HGE Designs Co. to offer sensory and kinesthetic support for Autistic children through functional fashion, sensory inclusive products and customized sensory kits.
Team: Erica Duffy, Reem Larabi, Avinash Narisetty and Stefanie Zins
TamPal is a products and services company aimed at making access to tampons and pads as easy as toilet paper. Period.
Yoga in Classrooms and Schools Consulting
Team: Emily Fleming
Working with schools and school districts to develop tailor-made, impactful, and long-term yoga and mindfulness programming for students, staff, and families through a model of long-term coaching and support, cross-curricular integration and the creation of culturally relevant programming aligned to the needs, values, and goals of the school community.