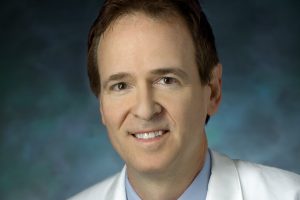 The U.S. Food and Drug Administration's approval earlier this year of the first commercially available positron emission tomography (PET) imaging agent targeting the prostate-specific membrane antigen (PSMA) represented the culmination of 25 years of work for Martin Pomper, M.D., Ph.D., a professor in the Johns Hopkins Medicine Department of Radiology and Radiological Science.
"I was elated," Pomper says of the FDA's approval of PyL, the compound that he and his team discovered and patented. "The bottom line is that it's going to improve vastly the management for prostate cancer because now urologists and oncologists are going to have a clear map of what the disease looks like in patients throughout their care continuum."
Prostate cancer is the second leading cause of cancer-related death in men. One in eight men will receive a prostate cancer diagnosis, a process that usually begins with a blood test that detects elevated prostate-specific antigen (PSA) levels, which are indicators of prostate cancer. If elevated PSA levels are found, traditionally, a biopsy is performed and, if cancer is detected and has not yet spread, the prostate is removed.
Bone and computerized tomography (CT) scans also can be done to see if the cancer has spread beyond the prostate, but these studies are less sensitive and specific than a scan performed with PyL. The imaging agent is injected into the body and detected using a PET scanner. PyL attaches to cells with elevated PSMA levels, allowing doctors to pinpoint the exact location or locations of the cancer without a biopsy or other procedures.
The imaging agent is about 98% specific for prostate cancer, says Pomper, who is also director of nuclear medicine and molecular imaging at Johns Hopkins.
"So, if you have a positive scan, and you see a lesion outside of an area of known PyL uptake, then it's going to be prostate cancer," he says. "It's extremely specific and very sensitive."
Pomper's interest in imaging prostate cancer began in 1996 when he came across a journal article about an inhibitor of glutamate carboxypeptidase II (GCPII), a brain enzyme that generates glutamate — a chemical that nerve cells use to send signals to other cells. Excess glutamate has been found in people with various neurological diseases, and researchers have learned that blocking GCPII in animals can limit excess glutamate and provide therapeutic benefits. Imaging compounds for GCPII have difficulty penetrating the brain, however, hampering clinical development.
But GCPII is also found elsewhere in the body, where it is called a different name: PSMA. Pomper pivoted his research, theorizing that his compounds could image prostate cancer. He and his team started making various imaging agents and, over the years, slowly but steadily accumulated funding for their work.
Jeanine Pennington, director of licensing at Johns Hopkins Technology Ventures (JHTV), remembers Pomper's pitch to her and her colleagues.
"You could see that his images were much crisper, much more accurate, and they revealed more cancer and potential lesions not just at the prostate, but elsewhere in the body if there was metastasis," she says.
JHTV obtained patent protection for Pomper's technology, and Pennington joined Pomper on a trip to upstate New York to convince a company holding background intellectual property rights on the technology to co-develop the imaging agent, which is now marketed commercially as Pylarify.
"This marks a significant advance in the imaging and management of prostate cancer, and it is only possible because of the support of students, postdoctoral researchers, faculty and staff over the years," says Karen Horton, M.D., director of the Johns Hopkins Department of Radiology and Radiological Science. "This success demonstrates that each of us can contribute to the development of novel technologies that improve clinical care, and it underscores the critical role of imaging."
Pennington notes that it is rare for therapies developed at academic medical institutions to make their way to patients, let alone receive FDA approval. Pomper is excited to see PyL widely used after years of patients and colleagues asking when it would be accessible.
"I think the moral of the story is perseverance," he says. "I had many people telling me we were wasting our time on this, but I knew that small molecules like PyL would be the way to image prostate cancer with a useful degree of resolution and specificity. In addition to our team, I owe it to Johns Hopkins, which has provided me with the kind of freedom, collaborators and physical environment to do things like this."
Pomper, other Johns Hopkins inventors and The Johns Hopkins University are entitled to royalties on sales of Pylarify. The Johns Hopkins University reviewed and approved this arrangement in accordance with its conflict of interest policies.