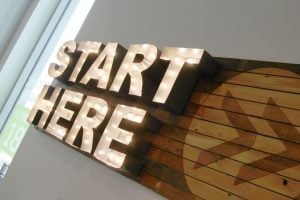 On September 14, more than 100 entrepreneurs, investors and others interested in Baltimore's startup ecosystem gathered at Brown Advisory's Fells Point headquarters to meet the inaugural cohort of M-1 Ventures.
The first-year accelerator kicked off on September 5 and features five startups developing an innovative technology related to connected health and fitness: BurnAlong, b.Well, EduMD, MotionVibe and RoundTrip. Each of these emerging ventures aspires to empower people to get healthy, stay healthy and achieve wellness goals or to improve patient and financial outcomes and the efficiency of health care providers.
At the event, investor Paul Singh—who directs the accelerator along with another noted entrepreneur Tony D'Agostino—said each of the startups is beyond the "will it work stage" and are currently at the "how big will it be stage." Each team is receiving mentorship from experts at Johns Hopkins, Plank Industries and the University of Maryland who specialize in the startup's area of focus.
Additionally, M-1 startups received $25,000 in investment funding and have the opportunity to earn one of two additional investments based on ratings from their peers in the program. This peer-review model for awarding startup investments was introduced by venture capital firm Village Capital.
The M-1 cohort
BurnAlong
Challenge: People want to work out with their favorite instructors even when they can't get to the gym
Solution: An online video fitness and wellness platform enables people to work out with top instructors across the country and their friends
Key stat: BurnAlong has more instructors than all its competitors combined
b.Well
Challenge: More and more people are turning to digital health services, but a lack of integration prevents more positive outcomes
Solution: An online platform that puts consumers at the center of their health care by simplifying access to health data, insurance and on-demand health services
Key stat: Over 86% of health care dollars are spent on conditions that are largely preventable
EduMD
Challenge: Typically, surgical residents don't receive immediate feedback about their performance, potentially slowing development
Solution: MileMarker™ is an on-the-job, real-time assessment software for surgical training
Key stat: Hospitals at Johns Hopkins, Emory and Baylor have adopted MileMarker™
MotionVibe
Challenge: People have gym memberships, but they still fall short of goals and potential fitness outcomes
Solution: An app that connects users with a community of fitness consumers and professionals
Key stat: In use at 450 gyms and producing revenues of $40,000 per month
RoundTrip
Challenge: It takes hospitals hours to book non-emergency transportation
Solution: An online platform that connects hospitals and patients with on-demand, non-emergency medical transportation
Key stat: RoundTrip is seeing a 40 percent monthly increase in rides
A local, 'vertical' focus
The seeds for M-1 Ventures were planted years ago. Singh recalled the initial conversations he had with Johns Hopkins Technology Ventures (JHTV) about bringing an accelerator to Baltimore. Quickly, both parties agreed that an accelerator focused on connected health and fitness could provide the most impact.
"We wanted to create an accelerator that focused on skill sets, industries and talent that are already here," Singh said.
By focusing solely on the connected health and fitness space, M-1 Ventures provides an opportunity to leverage Maryland's anchor organizations—including prestigious research institutions and one of the world's most successful athletic performance companies. The accelerator is supported by Johns Hopkins, Plank Industries, UM Ventures, The Abell Foundation, Brown Advisory, the Maryland Department of Commerce and Village Capital.
JHTV head Christy Wyskiel cited the need for even more collaboration between those who aspire to improve Baltimore's innovation ecosystem as a means of bringing the benefits of discovery to the world and revitalizing the local economy
"We need to create a thoughtful connected network," Wyskiel said. "It's not going to work if we're all in our own silos."
Brown Advisory partner Mike Hankin agreed, discussing Baltimore's increasingly active innovation ecosystem and his hope for how it will continue to improve.
"Baltimore's collective efforts are making great strides to foster thought leadership and innovation across the city," Hankin said. "It's not where we want to be yet, but it will get there."