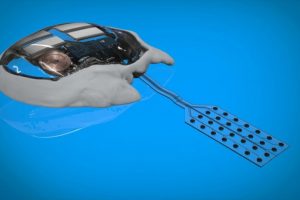 When patients considered the outcome of neurosurgery in its earliest decades they were often more focused on survival than on potential deformities, scars, lumps or bumps left behind after surgery, according to Jesse Christopher, co-founder and president of Longeviti Neuro Solutions.
Now that outcomes have improved, patients are more confident in their chances of making it through surgery to remove tumors, relieve swelling or implant medical devices, but they also have additional priorities, Christopher said.
"Though living is still the primary outcome sought and patients have trust in the surgical outcomes, they also want to look the way they did prior to surgery," says Christopher, a 15-year veteran of the medical device industry.
To that aim, Christopher launched Longeviti in 2016 with co-founder and chief medical officer Dr. Chad Gordon, a leading craniofacial plastic surgeon at Johns Hopkins who specializes in craniofacial injuries, reconstruction and surgeries and complex skull reconstruction, among other medical procedures related to the face and skull.
Longeviti seeks to help neurosurgery patients by adding function to otherwise unused space after skull reconstruction implants. The goal is to improve both neurologic and cosmetic outcomes by giving patients and doctors more options when it comes to the installation and retrieval of neurosurgical device implants, Christopher says.
Though Christopher says the world is a long ways from implanting cell phones in people's brains, he does see a future in which medical technology and implants specifically play a larger role in the health care space.
Using robot and laser technology licensed through Johns Hopkins Technology Ventures, the company has set out to produce the first customizable power supply within the cranial hemisphere. The team has created two medical devices for market so far and has been credited with three, first-in-human case publications.
The InvisiShunt is a single-use sterile surgical implant for different areas of the craniofacial skeleton. It uses a high-density polyethylene to support location and orientation while restoring the natural shape of the cranium.
Longeviti's L.I.D platform is currently making its way through the federal approval process. The custom-shaped-devices will act as a vessel that allows for easier access to medical devices that must be implanted to manage medical conditions, such as hydrocephalus, epilepsy and tumors.
Meanwhile, the InvisiShunt was used for the first time on a patient in October 2017. The single-use implant is pitched as a way to leave behind fewer cranial deformities due to repeated surgeries.
Cranial reconstruction is often done after neurosurgery procedures to fill in areas after removing a tumor or after re-entering the skull for routine follow-up neurosurgeries, Christopher explained. The applications of the InvisiShunt include non-load bearing augmentation and/or reconstruction of the craniofacial skeleton.
"Until Longeviti, functional neurosurgery implants and cranial reconstruction were completely siloed industries in the commercial world," says Christopher.
Christopher said he jumped at the chance to combine his background in medical device marketing with Gordon's medical expertise when a previous employer passed on Johns Hopkins' robot and laser technology. He quit his job and purchased the patents because the two share a passion for helping patients who need cranial reconstruction live their best life, free of deformities, bumps and voids that often accompany surgery without reconstruction, Christopher says.
As a virtual member of FastForward, a coordinated suite of resources designed to move technologies from startup to marketplace, Longeviti also received help connecting with industry and fundraising experts.
The company has attained financing and secured 510Ks from the FDA, which are premarket notifications sent in to demonstrate that a device is as safe, effective and equivalent to a legally marketed device that is not subject to premarket approval.
"Technology isn't going in the opposite direction," says Christopher. "It's always moving forward. That means we're just at the beginning of interacting with our brain. It's going to become bigger business and provide better tools, so let's account for that. We want to be the company that plans for the many surgeries these patients will face, and ensures getting in and out won't leave patients less than whole."
Subscribe to the Johns Hopkins Tech Ventures newsletter!