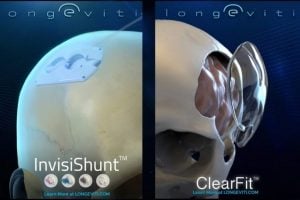 While working at a medical device company, Jesse Christopher helped plenty of physicians develop ideas into products. But Chad Gordon stood out.
"There are a lot of surgeons with ideas," Christopher says. "But there are not a whole lot of them willing to work 24/7 to get those ideas to come to fruition."
Gordon's idea was to bridge the gap between neurosurgery and plastic surgery, to make reconstruction of the skull part of any brain surgery's initial plan instead of an afterthought.
"What I realized was there was a no-man's land between adult brain surgery patients and people who are adults who need skull reconstruction, skull implants," says Gordon, director of neuroplastic and reconstructive surgery at Johns Hopkins.
The result is Longeviti, a two-year-old startup launched with the support of Johns Hopkins Technology Ventures' FastForward. Longeviti already has two functional skull implant devices approved by the U.S. Food and Drug Administration that have been used by patients across the country.
Both the ClearFit, which is custom-made, and the InvisiShunt, which comes in standard sizes, use Longeviti's patented low-profile intercranial device platform to fit into the curvature of a patient's head. The implant allows doctors to easily swap out medical devices rather than having to cut into the skull multiple times.
"We're building, basically, space shuttles to launch satellites into the brain, which is our space," says Christopher, who left his former job to co-found Longeviti and now serves as CEO.
For Gordon, Longeviti is a natural extension of his medical practice. He is the first full-time neuroplastic surgeon in the country and is co-director of Johns Hopkins' Multidisciplinary Adult Cranioplasty Center. Since arriving at the hospital in 2011, he has gone from a single referral to seeing patients from all over the world and overseeing a fellowship for training other surgeons interested in skull reconstruction.
"The social stigma is off the charts when it comes to your head," says Gordon, who serves as Longeviti's chief medical officer. "As soon as someone sees a dent or bump on your head, they start to think you're missing part of your brain or that you had a major trauma."
That bump might not simply be a cosmetic issue; it might be a popped valve from an implant that leads to an infection, for example. The average patient with hydrocephalus, a condition that requires a shunt to remove fluid from the brain, has nine revision surgeries in his or her lifetime, according to Gordon.
"Brain surgeons look at the scalp and skull as something in the way of what they need to do," says Gordon. "To the neuroplastic surgeon, it's a whole different ballgame. We want you to look like yourself. Whatever needs to be put in there to change your brain function, we want it to be biocompatible so it doesn't pop up through your skin, or push on your brain."
Thirty people with hydrocephalus have been fitted with an InvisiShunt, while 40 have been given a ClearFit. Longeviti is doing the first tests in humans for all of its devices and reporting its work in peer-reviewed neurosurgery journals. "You can get great outcomes both cosmetically and functionally," Christopher says. "In fact, ironically, the early data is suggesting it's one and the same. You have better odds of having a better outcome if you have a normal (skull) contour."
Both Christopher and Gordon credit JHTV with helping Longeviti grow. The company is in the midst of a Series B funding round seeking to raise $10 million, and the co-founders are grateful for the brand and networking validation JHTV has provided.
"If you're going to launch or embark on a business in health care, especially neuro … a collaboration with Hopkins is like starting at your opponents' 1-yard line," Christopher says.
As Gordon began writing the patents being used by Longeviti, he signed an interinstitutional agreement with his co-investigators at the Johns Hopkins University Applied Physics Laboratory and Walter Reed National Military Medical Center making him the principal investigator for related projects at all three institutions. Through his experience with Longeviti and JHTV, Gordon believes Johns Hopkins should add a fourth mission to research, education and clinical care: industry collaboration.
"Any successful surgeon who has invented something will tell you it's not going to get to a patient unless you involve industry," he says.
Looking ahead, Longeviti's co-founders see the company becoming synonymous with cranioplasty and neuroplastic surgery as the discipline takes off. After Longeviti becomes a leader in neuroplastic surgery, they eventually want the company to be seen as "one of the most impactful innovative neuro companies in the world," according to Christopher.
They also see demographic trends: By 2050, when half the world's population will be over age 65, 1 in 10 people will have a neurological disorder, Christopher says. Longeviti's products are now used to deliver medicine, but 50 years from now, they could be used to deliver more memory space to a patient's brain, for example.
"You need to get away from one implant for one disorder," he says. "What you need to get toward is a platform approach. 'Here's one space station for all your future neurology satellites.' It's all going to live in the space station.
"That's going to happen in our lifetime."